Red Dead Redemption 2 Announced, PC Not Confirmed
Live in hope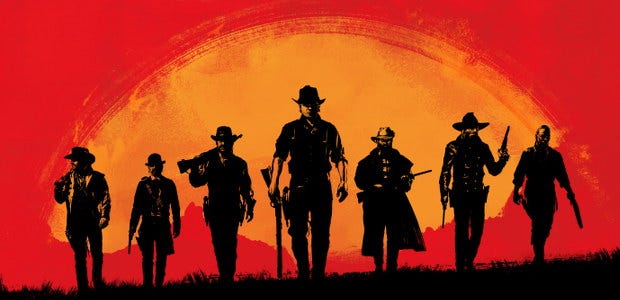 As expected, Rockstar have strapped on their shooting iron and saddled up to announce Red Dead Redemption 2 [official site]. 2010's Red Dead Redemption, an open-world cowboy 'em up in the modern Grand Theft Auto style, is perhaps my favourite Rockstar game so this is splendid news.
In a disappointing but unsurprising turn, no, Rockstar haven't said anything about a PC version yet; only console releases are confirmed. I'm not worried, mind, as it took Rockstar ages to talk about Grand Theft Auto V on Windows then we received a fine PC version - one which rarely leaves the Steam top 10. Surely it'll come here too.
"With Red Dead Redemption 2, the team is working hard to push forward our vision for interactive entertainment in a truly living world," said Rockstar founder Sam Houser in a press release. "We hope to deliver players an epic experience that builds upon everything we've learned making games."
Today's announcement is a bit slim, with only that quote, word that a trailer will come on Thursday (at 4pm UK time, vidwatchers), and this blast of wordglarb:
"Red Dead Redemption 2 is an epic tale of life in America's unforgiving heartland. The game's vast and atmospheric world will also provide the foundation for a brand new online multiplayer experience."
It'll be on consoles in autumn 2017 then... surely PC later? 2018? I'd be mighty surprised if this skips us. Yes, even though Red Dead Redemption still hasn't hit PC.
Rockstar never really explained Red Dead Redemption's absence, with the closest being a Q&A bit suggesting it was somehow unviable:
"All we can say is that whenever it is viable (technically, developmentally and business-wise) for us to release a game for PC (or any other particular platform) – we will and we usually do; unfortunately, that is just not the case 100% of the time for all platforms."
Grand Theft Auto V's near-eternal rampage across the Steam charts would suggest that Red Dead Redemption 2 would be safe at least business-wise. As for developmentally, consoles release first then a solid PC version later - so they can focus on it properly - would sound sensible. Technically? It'd be weird if it they didn't think ahead this time.
Gosh, I'll be delighted if both Grand Theft Auto V and Red Dead Redemption 2 end up Steam chart regulars, driving our Alec down a dark path where he wanders lost and confused, tearing at his hair while singing "Grand Theft Auto Red Dead, Red Dead Theft Grand Theft Red Dead" to the tune of the Vengaboys' We Like To Party.