Resident Evil 7 new DLCs go brawling in the swamp
Backyard wrestling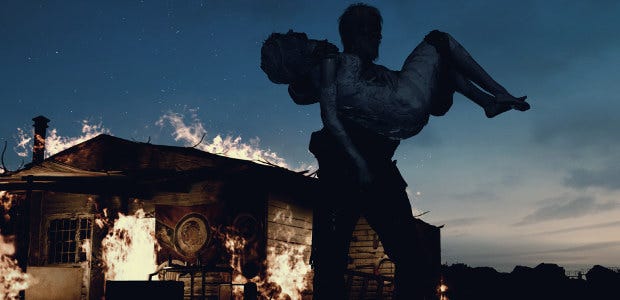 The unexpectedly good Resident Evil 7 Biohazard has expanded again, last night launching one free new chapter and one paid one. The free bit is Not A Hero, the long-promised chapter starring veteran Resident Evil beefman Chris Redfield. That one is fairly action-focused, as you might expect, though it's not a pure blastfest. The new paid expansion is End of Zoe, playing as another Baker family member using his beefy fists to pummel swamphorrors and save Zoe. I believe that's the very end of Resident Evil 7, and what better send-off for the redneck horror game than backyard wrestling?
Not A Hero is free for all RE7 owners on Steam. It sees Chris investigating the Baker incident, fighting monsters new and old with his fancy high-tech guns as well as his fists of fury. I hear it's an hour, an hour-and-a-half long. Not bad for a bonus add-on.
End of Zoe is a little bigger and yes, I really did mean it when I said you punch swampmonsters to death. It stars Joe Baker, a swampy survivalist who crafts scrappy spears, eats centipedes, and will tear the head clean off a monster's shoulders after he's punched it in the face. I associate beefy Chris with punching in Resident Evil since he hooked and jabbed his way through RE5 but, from what I've seen so far, ol' Joe puts him to shame.
RE7's season pass, which costs £25/€30/$30, includes End of Zoe with the rest of the expansions - some of which are pretty decent, Alec thought. Or End of Zoe costs £12/€15/$15 separately. These days, it's £42/€50/$50 to buy the base game and the season pass together.