Resident Evil: Revelations Reveals Demo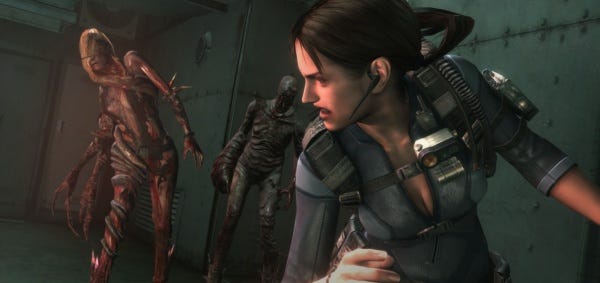 I can see you, sat there, your forehead resting on your spread finger and thumb, as you stare into the blankness. You're in a dilemma (great cars). You perhaps want to play Resident Evil: Revelations, but you played Operation Raccoon City and you still have the dreams. Lift your weary face! I am here to help! There's now a demo.
The demo is available via Steam, and you can download it and then play it. That's the order you have to do it in.
I don't really have anything else to add, other than that the only go I've had on the game was a brief play on the Wii-U version, and I can report the first task was a bit like a rubbish MMO Collect 10 quest, and that Wii-U controllers are INSANE.
So in the meantime, here's Setting Sun as performed by the Beatles:
And here's Ellen Save Our Energy by Windmill: