Retro City Rampage Coming To... DOS?!
Dig out your old 486 DX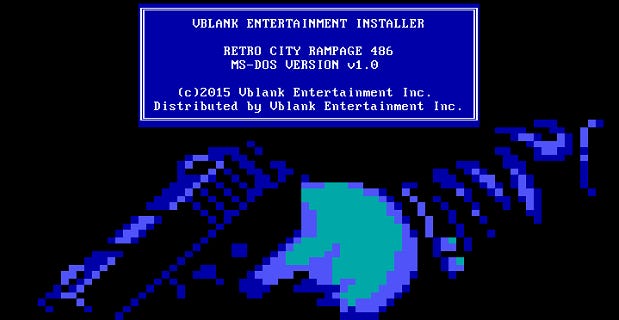 Alec described Retro City Rampage [official site] in his Wot I Think as a "pseudo-8-bit, pseudo-open open world game which uses Grand Theft Auto as a bedrock." The game swims in an ocean of pop culture references, so much so that it's probably going to surprise no one to learn that the game is coming to MS-DOS.
Yes. Totes. MS-DOS. As in, that operating system you now need an emulator for, unless you have your parents' computers still hanging around. That one. Developers Vblank announced the imminent arrival of Retro City Rampage 486 on Twitter, along with that glorious teaser image from the retro-style install screen.
Few other details have since surfaced. We know that the port will be free for PC/Mac users that own Retro City Rampage: DX. And we know that virtually 486 DX will work with the port. The developers have also said that Retro City Rampage 486 can actually run on a 386 with a co-processor, but it will be slow and unsightly. So, yeah. Make sure to get a 486. Or to emulate one, at least.