Rick And Morty VR Promises Weird Science And Portals
This can't end well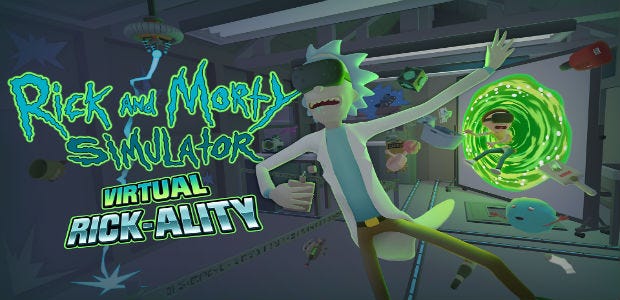 Cybergoggle wearers will be able to get up close and personal - too close, too personal - with the delights and horrors of Rick and Morty in a new game. Job Simulator developers Owlchemy Labs are making Rick and Morty: Virtual Rickality [official site], letting players loose in Rick's garage/laboratory. That can't end well.
Details are still sparse. Owlchemy confirm there will definitely be portals involved, and they've been "optimizing plumbus physics and working on the intricacies of Rick's flask." Mysterious. However, we did get a teaser, albeit a regretfully short one:
Owlchemy Labs are working with Justin Roiland, who co-created the show and voices both Rick and Morty. "We first met serendipitously over our mutual love of Job Simulator, got drunk, ate Indian food, and then decided to make a video game together," Owlchemy say.
Adult Swim describes the game thusly:
"Thrust your hands and eyeballs into Rick's garage by trying our Rick and Morty: Virtual Rickality. Touch things! Fondle things! Make horrible mistakes with dire consequences! The future is truly here (and it is deeply unsettling)."
There's no word just yet on a release date but the game will be playable at San Diego Comic-Con. Con-goers can try out Virtual Rickality from July 21-24 between 11:00am and 6:00pm at Adult Swim on the Green behind the main convention center.
We'd heard whispers that Justin Roiland was working on a virtual reality game but that specific whisper was about working with Crows Crows Crows, the studio behind Dr. Langeskov, The Tiger, and The Terribly Cursed Emerald: A Whirlwind Heist.