Right now you can get 14 Star Wars games for 80% off - including some absolute classics
There's always a disturbance in the Force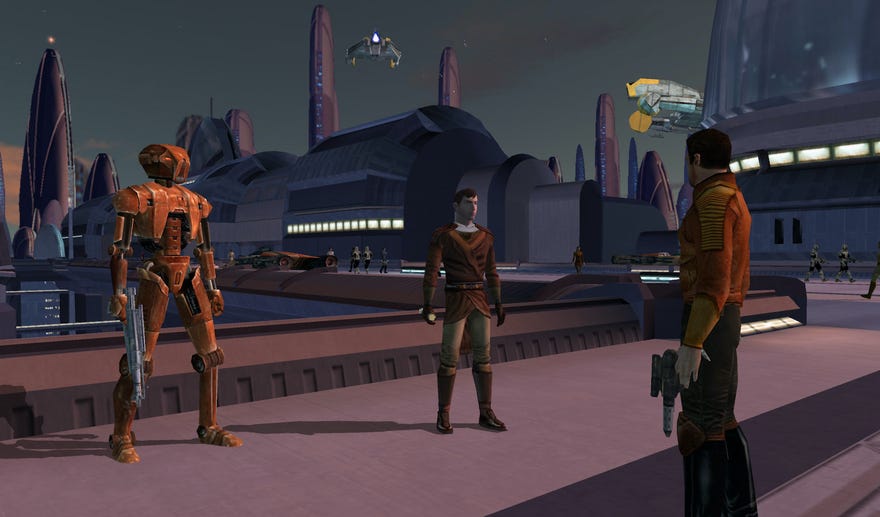 Star Wars Celebration was held last weekend and the much-anticipated sequel Star Wars Jedi: Survivor is speeding toward us on April 28th. All of this nostalgia and excitement means there's still fun to be had in a galaxy far far away, and luckily, there's a 14-game Star Wars bundle on Fanatical to celebrate. It's currently enjoying a deep 80% discount for a limited time.
The Star Wars Collection on Fanatical is usually £76/$100, but with the whopping discount, you can grab it for £16/$21. Buying the bundle will grant you 14 codes which you can then redeem on Steam. You'll need to act fast, though, as the price cut ends on April 16th - the end of the week.
Here are the 14 Star Wars games included in the bundle:
Knights Of The Old Republic
Knights Of The Old Republic 2
Jedi Knight - Jedi Academy
Jedi Knight 2 - Jedi Outcast
Star Wars: Dark Forces
Jedi Knight - Dark Forces 2
Jedi Knight - Mysteries Of The Sith
Star Wars Battlefront 2 (2005)
Star Wars Republic Commando
Star Wars Starfighter
The Clone Wars - Republic Heroes
Star Wars Starfighter
Star Wars Empire At War
The Force Unleashed
The Force Unleashed 2
There are some certified classics in the collection, and the variety of genres should satisfy every type of Star Wars enjoyer. Are you the lightsaber-swinging, force-push-bullying type? Or do you prefer your faraway journeys with more blasting and less space magic? No worries: this is the collection you're looking for. Probably.
The highlights here are definitely the two Knights Of The Old Republic RPGs. If you're a Star Wars fan and an RPS reader, chances are you've already played BioWare's classic, and Obsidian's somewhat-overlooked sequel. But if you were waiting for the now in-limbo remake, the original KOTOR games still hold up. The RPS Hivemind force pulled KOTOR onto our list of the best role-playing games on PC.
Forgetful space-Nazis aside, the collection has a ton of other highlights. Jedi Knight - Jedi Academy is a fan favourite - it's one part first-person shooter, one part frantic lightsaber melee, and all parts very good. I've never played it, but AliceB mentioned there's an entire platforming stage, solely dedicated to backflipping around giant sandworms, which is a very exciting proposition to me, personally. [it is a very silly game and is therefore one of my absolute favourites - .ed]
So, if you'd like to soak in the Force a while more, check out the Star Wars Collection here. And in the event that your favourite Star War is missing from the collection (hello there, Lego), you can read Hayden's list of the very best Star Wars games.