Rock out with your goggs out in Rock Band VR in March
Jamming in cyberspace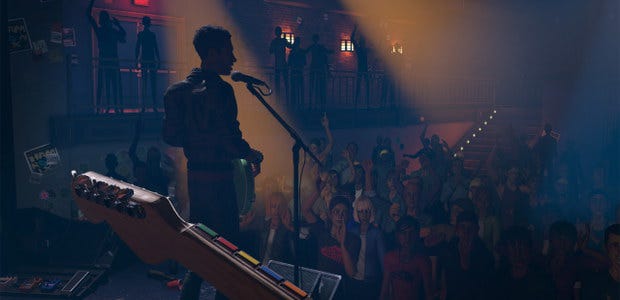 Harmonix may have failed to crowdfund a PC port of Rock Band 4 but their rhythm game is soon coming our way for folks already committed to a plastic peripheral lifestyle. Rock Band VR [official site] will launch for Oculus Rift on March 23rd, Harmonix have announced, letting goggheads jack in to rock out on a virtual stage. It'll need the Oculus Touch motion controller as well as a console Rock Band 4 guitar controller. Here, have a cybergander in this new mixed-reality trailer:
That video's showing off Performance mode, which is a touch more freeform than regular Rock Band and tailored for VR. Harmonix say:
"In this mode, players experiment with different chords, notes and strum speeds to develop their signature sound and make each performance their own. It's a completely new kind of music gameplay, it's perfectly suited to VR, and it's unlike anything else Harmonix has ever created.

"While the gameplay may have changed, scoring and leaderboards remain as central to the Rock Band experience as ever. Players will need to develop a mastery of Rock Band VR's new gameplay mechanics if they want to claim a top spot. Chaining together chords and notes into musical phrases and combos will earn players points, while timely deployment of overdrive and signature rock moves, like head banging in time to the music, will trigger multipliers to boost scores even further, earning more stars. It's a deep, complex system that rewards both technical proficiency and creativity."
That sounds pretty neat! Some good changes to better suit cyberspace. Rock Band VR will also have a Classic mode for folks who want to clack away the usual way.
March 23rd, then. You can bring your own plastic guitar, or Amazon US are selling a $70 bundle with the game plus an Xbone or PS4 guitar.