Pretty puzzler Kine is announced
Do androids dream of electronic rock bands?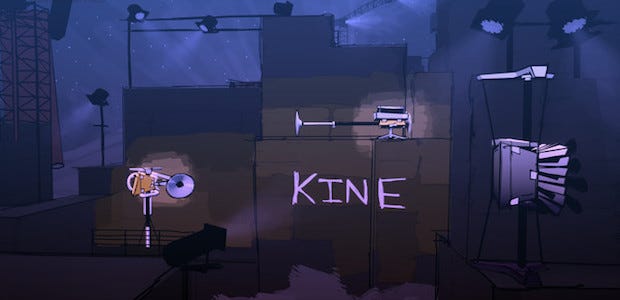 Kine is one of those titles that annoys me the moment I hear about it, because I deserve to be playing it right now but some team of artists is working really hard on it so they won't just give it to me. Give it to me, you crazy kids. I have been a good boy all year and I am delighted by what you have made. Please let me have it. Please.
Kine is a 3D puzzle game about three whimsical machines that aspire to be musicians. I should think that was obvious from the name. Duh.
These three robots (Euler, Quat, and Roo) are struggling to form a rock band and have their first big break. The only problem is that they're trapped in a nightmarish cityscape, beset by ever more elaborate 3D puzzles that require teamwork and brainpower to overcome.
It looks like a completely original vision of what a 3D Thomas Was Alone could be, and I'm already falling in love. Also, any anthropomorphized object with hopes and dreams tends to reduce me to tears, so bring it on.
Kine's Steam store page is up now, and we have a cool announcement trailer to go alongside that.
Gwen Frey is the creator and publisher of the title. Her credits include time at Irrational Games working on the Bioshock Infinite and she most recently was the animator behind The Flame in the Flood, which is one of those surprise titles that broke my heart. If you haven't given yourself the gift of Flame in the Flood yet, that should be on your To Do list.
Frey offers a handy checklist for whether this title is appropriate for you:
Do you like:

Music?
or
Challenge?
or
Quirky yellow robots?

If you answered yes to any of the above questions then this game is for you! If you answered no to all of the questions above then this game might not be for you. Also, you might not have a pulse. Please check your pulse.
The game is available to start following on Steam, where you'll find that Steam's brilliant algorithm thinks more game "like Kine" include Counter-Strike and Tom Clancy's Rainbow Six: Siege. Look, maybe Steam knows something I don't know. Maybe there's a lot of breach and clear in Kine that just hasn't been introduced yet. Perhaps they really are the same kine of game.
Sorry. Here's screenshots.