RPS@PAX 2023: The voice cast of Team Fortress 2 reveal the origins - and the future - of the "Sandvich Saga"
I got a hug from Ellen McLain. That's not relevant to the video I just wanted to brag about it.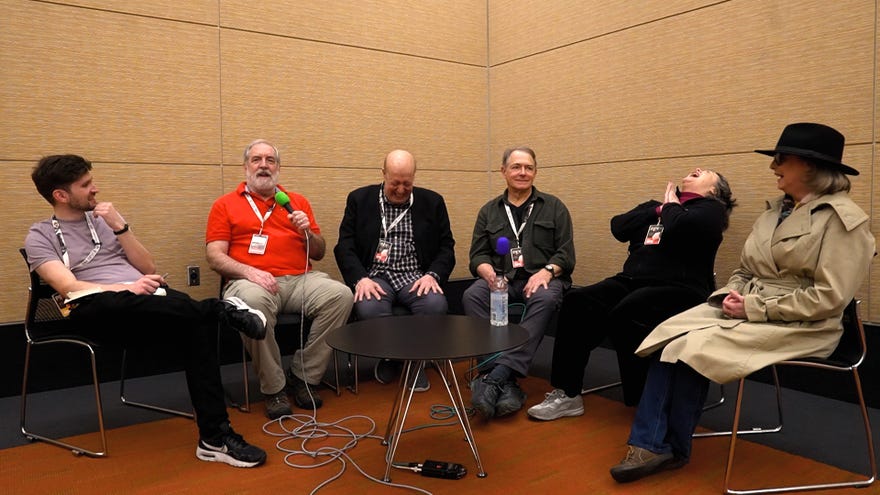 At PAX West in Seattle last year, I had the pleasure of interviewing the voice cast of Team Fortress 2. I chatted to John Patrick Lowrie (The Sniper), Gary Schwartz (The Heavy, The Demoman), Robin Atkin Downes (The Medic) and Ellen McLain (The Administrator) about the game's fifteen year long legacy, the process of finding their character's voices as well as their favourite quotes. It was a riot of an interview and, to be honest, a bit of a career highlight. It also did really well on TikTok, which I have mixed feelings about.
Fifteen minutes after the gang left the grimy conference room in which the interview took place (I had immediately crawled onto the floor in an attempt to ease the anxiety from having conducted said interview), I got a Twitter notification. Robin had posted a video. Following our chat, the group had attempted to order a sandwich from a cafe in-character, leaving the staff completely bemused as a result. Understandably the video did numbers, and over the last six months, the gang have been releasing new episodes in what is now known as "The Sandvich Saga" on a regular basis.
After spotting that the actors would be returning to Boston for a panel at PAX East, I was keen to chat to them about this incredible series of bonkers videos. Although Robin was sadly unavailable at the time, I was delighted that John, Gary and Ellen had brought along Dennis Bateman (The Spy) and Liz McCarthy (a recurring character known only as "The Mysterious Woman") this time around.
In the video above we chat about the origins of the Sandvich Saga, what it's like to work together on-camera for the first time and how THAT Abba parody came to be. Honestly, I could interview this lot forever. I doubt this is the last time I find an excuse to chat to them for half an hour at PAX, believe me.
Thanks for sticking around these past few weeks. This marks the end of our audio-visual coverage of PAX East 2023. What a ride! What a journey! We've laughed, we've cried. It changed our lives. How do we move forward from this? My friends, moving forward is all we can do. The past is a mere memory now. Sort of. I mean you can watch all of the videos we made by exploring our RPS@PAX tag. Just doesn't sound as dramatic, does it?