Run Britain's famous pasty shop in the new and improved free Greggs Simulator
Take a bite, for free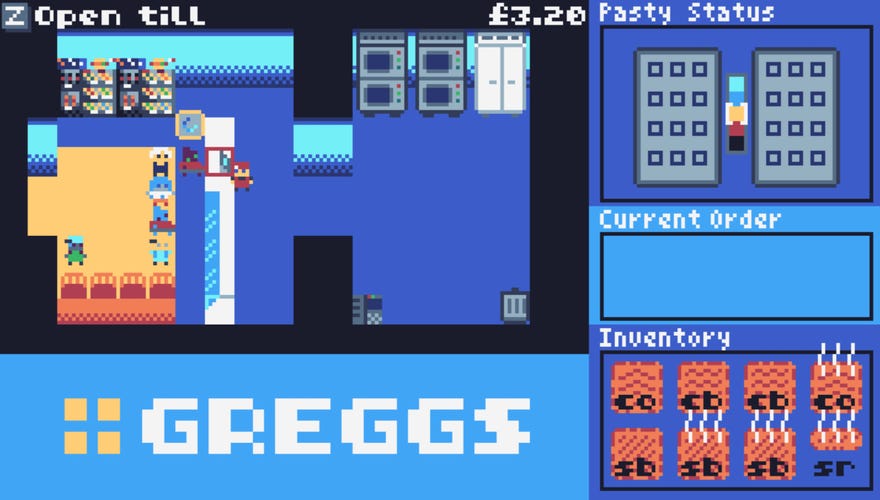 When I think of quintessentially British games, a few highlights come to mind. Fable's fairytale world of stocky goblins and poverty-stricken orphans with Victorian-era voices is definitely very British, as is Banjo-Kazooie's dry wit and sarcasm. A decent bucket of contenders, but the crown has to go to the Greggs Simulator, a free shop sim that tasks you with managing a Greggs pasty shop that's a staple of every UK high street.
Watch on YouTube
The Greggs Simulator was made by a developer called _gav on TIC-80, who first uploaded the shop sim in 2021. Over the weekend, they took to Twitter to say, "Big news everyone: I've managed to fix my world famous #TIC80 Greggs Simulator." You can play it here.
The Greggs Simulator places you as the sole worker in the pixelated pasty shop as you run from one side of the building to the other, serving customers and prepping food. You'll retrieve uncooked savoury goods (cheese n' onion bakes, sausage rolls, etc) and sweet treats (yum yums and eclairs) from the fridge. You'll then need to place them into the oven to cook, and serve customers, all of whom want a different combo of items.
It captures some of the frantic kitchen runnings of Overcooked as items can burn in the oven, and a revolving door of impatient Brits stacks up pretty quickly. At first, stocking the display with endless amounts of food makes you feel like a damn responsible adult, prepared for a flurry of customers. That inventory moves fast, however, and you're soon stomping back into the kitchen to prepare more.
Big news everyone: I've managed to fix my world famous #TIC80 Greggs Simulator.https://t.co/i2YnhUNznR pic.twitter.com/Mc70F6rES3

— _gav (@____________gav) April 16, 2023
There's some fun jokes in here. For example, the description for the cheese and onion bakes reads: "perfect for first dates," while the sausage rolls are described as "classical tubed meat rods" (natch). Seriously, though, do not eat a cheese and onion bake before a date! Unless you're both into that kind of thing, although you still might be better off keeping that a secret.
Aside from that, the game's unrelenting pace and never-ending supply of pasties and pastries is a good reminder: Greggs is the definition of yucky fast food, and no amount of crunchy flake can cover its hideousness. Marketing makes Greggs seem like a homely store full of hearty food, but after taking a bite of their salty selection, I always regret not having gone anywhere else. I do enjoy your fried chicken baguettes, Greggs, so please don't ban me.
As the same time as updating their Greggs Simulator, _gav has also updated their Billie Eilish Kart game too, and I'd recommend that just as highly. Anyone who's played Battletoads' turbo tunnel level will know what to expect here. You're on a side-scrolling stage and need to jump over various obstacles, all while a chiptune version of Eilish's bad guy plays in the background. I managed a 30-second run. It's neat.