Rusty Lake Paradise delivers creepy puzzling next week
BOO!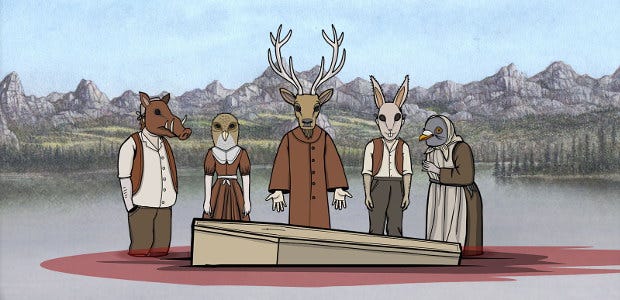 Returning to work after the holidays and looking over upcoming releases, oh! A new Rusty Lake game is out real soon! Rusty Lake Paradise, as it's named, will continue the creepy adventure-o-puzzler series that I know our John and Adam have both enjoyed. It's coming next week, on Thursday the 11th, and will visit a spooky island seemingly suffering those ten terrible plagues. Personally I'd be up for for frogs galore and three days of darkness, though I suppose boils, lice, and death are a bit of a bother. Here, have a peek in this trailer:
The developers, Rusty Lake (yep, it gets confusing), explain Paradise's setup:
"Jakob, the oldest son of the Eilander family, is returning to Paradise island after his mother passed away. Since her mysterious death, the island seems to be cursed by the ten plagues. Find the mother's hidden memories and partake in strange family rituals in order to stop the plagues."
As for what Rusty Lake's games are actually like, here's a bit from John's Rusty Lake: Roots review:
"Each release fits into a larger mythology that feels ominously huge and yet barely understood, awful stories of gruesome deaths and mysterious looming bird-headed figures, time-bending weirdness, and an overriding notion of cruelty that's hard to quantify. In short, they're completely wonderful."
Rusty Lake Paradise is coming to Steam and Itch on Thursday the 11th of January. It'll cost €3/$3.
Beyond this, Rusty Lake are working on another of their Cube Escape games and also, they have said, "a very UNIQUE project" that "will be something completely new for Rusty Lake and has never been done before in gaming." Finally, a game about cooking a fry-up with Sir Trevor McDonald? They've since started muttering about "a secret Rusty Lake project starring a real life Dale" so maybe not.