Blood-drenched party platformer Samurai Gunn 2 blasts and cuts onto PC in 2019
Three bullets is plenty. And if not, sword!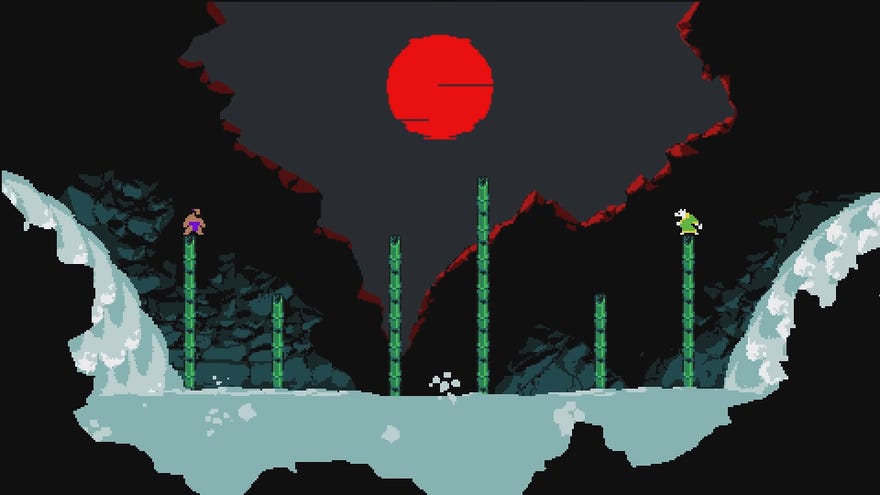 Blink-and-you're-dead party platformer Samurai Gunn is getting a sequel, and this time there's a story mode to stab your way through either solo or with a friend. Announced during today's Nintendo indie showcase (and confirmed to be bound for PC), Samurai Gunn 2 is headed our way early next year. I've only had a few chances to play the original with a full compliment of friends, so I'm entirely on board with more options for solo play or smaller groups. Check out the debut trailer below.
Developed once more by Beau "Teknopants" Blyth, and this time published by Double Fine, Samurai Gunn 2 looks to have grown a little beyond its minimalist roots. The biggest addition is the co-op story mode. Players can go solo or team up with a friend to save Gunn City from a "ghostly threat", and I'm guessing that it'll take a little more than a Scooby Doo-style unmasking to save the day. Fortunately, everyone's got a sword and a gun. While the old three-bullets-per-life rule remains in multiplayer, it'll be interesting to see how the game handles ammo on longer co-op stages.
As the trailer shows, the Switch version of the game will be accompanied by a graphic novel, courtesy of French doodlesmith Valentin Seche. While the Nintendo Nindies Showcase (also featuring some extra gameplay footage) mentions that "smooth touch controls" on the comic are exclusive to the Switch version, hopefully the comic itself is included with the PC version too. Also, yes, that is indeed Doseone providing the theme song in the trailer. More of that sort of thing, please.
Update: Double Fine have confirmed that the comic will be part of all versions of the game, plus there's a new third option in combat. Rather than fire your gun, you can - and I quote - "Crush a bullet between your teeth to send yourself flying in a plume of smoke". I'm not sure that's how bullets or teeth work, but apparently these bouncy little samurai are made of stern stuff. The new dash move acts as a counter to sword attacks, while the sword counters bullets.
There's no release date on Samurai Gunn 2 yet, but Teknopants and Double Fine reckon it'll be polished and sharpened for action "early 2019". You can find the original on Steam and Humble for £12/€14/$15.