Save the last dance - GTA IV axes 50+ soundtrack songs
There's an open road that leads nowhere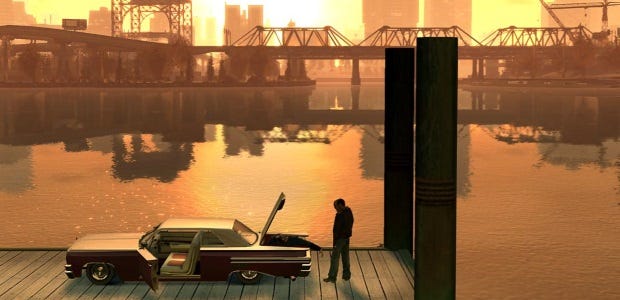 As much fun as we have with our virtual bank-heists, car-chases and random muggings, music licensing seems like a far more lucrative racket. Due to expensive, time-limited music licenses expiring, Grand Theft Auto IV developers Rockstar were recently faced with either pulling the game from sale, paying for a license renewal, or removing a good chunk of its famed soundtrack. Today, a small patch rolled out across multiple platforms, removing the now-unlicensed music tracks and it looks like the damage done may be greater than expected.
Right now, players are rallying to assess exactly what's missing, but reports that the cuts would largely be focused on the Russian-themed Vladivostok FM radio station have proved true, thought perhaps at the expense of a broader truth. Vladivostok has taken the biggest individual hit, but almost every station in the game, including several which picked up extra tracks for the expansions, has seen some losses.
So far the most comprehensive list on what's been axed comes from a helpful Steam forum user going by the handle Aaron. While he says that he's still compiling information and the list may grow yet, what he's assembled already makes for a grim read, and amounts to a rather significant percentage of the total musical content of the game. Over fifty tracks at present count, and it was only 46 a few minutes prior.
Probably worst hit outside of the Russian music picks is Liberty Rock Radio, which is now missing The Smashing Pumpkins' 1979, Electric Light Orchestra's Evil Woman, David Bowie's Fascination and Black Sabbath's Heaven and Hell, plus a few more. Anyone with an ear for the classics is going to be bent out of shape over at least one of those.
It's not all bad news. Rockstar have made good on their promise to replace some of the missing tracks. Vladivostok saw the worst damage done at a whole 15 tracks removed between the main game and its expansions (effectively the entire station), but it has received 11 new songs in replacement. It remains yet to be seen if any other stations have been given the same treatment.
Fortunately, Grand Theft Auto IV does have built-in support for custom soundtracks via a special independent in-game radio station, so it shouldn't be too hard to reinstate the missing music if you miss any of it, once it's all tallied up. Still, it's a sad state of affairs and one that is probably going to get worse over the coming years before it has any hope of getting better - this is the kind of problem that requires forward-thinking legislation to prevent, and that's hard to come by these days.