Second Life Players Made An MMO Inside Of An MMO
For fans of cyberpunk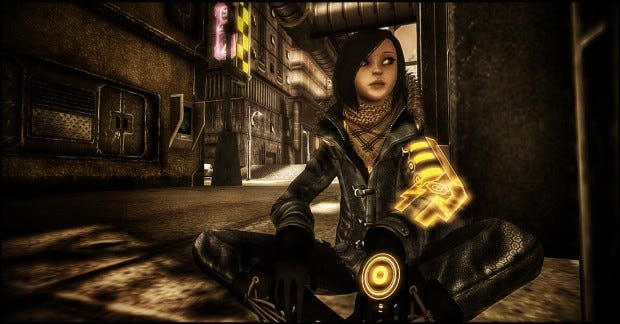 In what is probably the most impressive creative project in Second Life since the giant penis sculptures of SL retail, a group of players have used the game's building and scripting tools to create an in-game cyberpunk MMO. So, yeah, that's an MMO made inside of an MMO.
Remnants of Earth [official site] has players take on the role of a hero who has been left behind on an abandoned Earth. Despite the MMO nomenclature, this is essentially a fully-featured table-top RPG. In this game-within-a-game players must interact and role-play with one another through scripted events. You can also do things like crafting and go on quests.
According to the developers via New World: "[Remnants of Earth has a] heavy basis around classic pen and paper RPGs elements, like; dice rolling, stats, monster fighting, story driven events, MMO-like adventuring, and gathering. RoE is the first second life pen and paper table top game in SL, while still keeping the core features of any other roleplay sim. Players can interact with NPCs and other players to accomplish goals, and even engage in heated PvP faction wars. We even have a full crafting and mining system! Think of RoE as a fully functioning table top game in SL, like Dungeons and Dragons, or ShadowRun."
You can check out a trailer for the game below: