Store: Bought - Second Life Dev Acquires Desura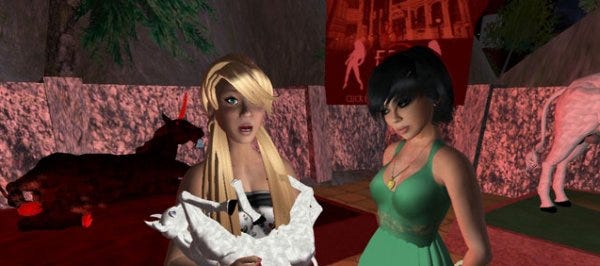 Second Life is still a thing! Trust me: I checked. Now I must go wash my eyes with acid and bees, for it's the only way to be sure. More importantly, however, creator Linden Labs is actually up to a bunch more stuff these days - including interesting (and sadly mobile-only) interactive narrative experiments and a buildy, kinda Minecraft-ish thing. So naturally, it's gone and purchased PC indie game and mod purveyor Desura because... I don't really know. But I mean, why not? Desura's a solid, largely open platform with thriving communities like Mod DB and Indie DB under its weirdly shaped umbrella logo thing. There are certainly worse starting points if you want to dive headfirst into the world of online game storefront management.
Here's what Linden CEO Rod Humble humbly said about his humble probably-exceedingly-expensive business transaction:
"Desura's talented team, thriving business, and impressive technology are a great fit for Linden Lab. This acquisition gives us a global platform for serving creative developers of all kinds, and we're looking forward to growing both Desura's global community of gamers and its fantastic portfolio of thousands of games, mods, and other content. Our aim is to invest and support the Desura team in making it the most open and developer-friendly platform in the world."
That's a good goal! Will Desura, say, grow into a laser-breathing behemoth and give Steam its own Mothra/some much-needed competition? Probably not. But the more decently large-scale open gaming platforms this world has, the better.
For the time being, Desura will continue running the same way it always has, and its team and tech will be absorbed directly into the Linden fold. Who knows what the future will bring, but this sounds like a solid start. So then, does anyone frequently use Desura around here? What about, er, Second Life?