Sine Posted: Sine Mora Coming To PC Next Week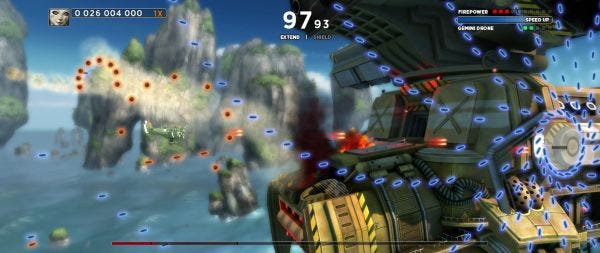 Gosh, Sine Mora was rather well liked on 360. Humongous review scores for the side-scrolling horizontal shooter have led Kalypso Media to snap it up and proffer it to the PC gods. It's due out on the 9th November, souped up for PC with HD mudflaps, offering you what people so oddly call "bullet hell".
Bullet hell is in fact where all the bad bullets go - the ones that kill the goodies. Me, I want to see some bullet heaven games. But for now I have to schmup it. (Geddit?!) Unfortunately they haven't seen fit to reveal a video of the game, because it's 1997 and we're a magazine. Screenshots? There are screenshots. Instead, here it is on 360 - it will be a lot like this, but you're wearing a nicer hat.
See, wouldn't it be nicer if you could just fly that lovely looking plane over those pretty cities, without all those people shooting at you? No? Weirdo.