Explore and unfurl constellations in Sky
Adrift in space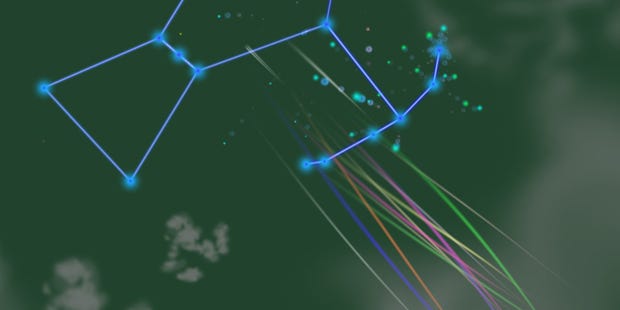 You know how I said today was a day for quiet and small games? I've been playing Sky [itch.io page] by bearwarp and it fits that remit perfectly. It's a contemplative whooshy-y constellation explorer with just enough plink and plonk to be lovely without ending up at irritating or loud.
It's a free project over on itch.io and I like that the process of creating it brought the dev to look into how we've looked up at the sky and told stories about it over time:
"Making an experience about floating freely in space made me look up and learn stories of the sky. The earliest record of constellations by Claudius Ptolemy and cuneiform, the first writing system to talk about the sky, possess appealing spatial dynamics and provide compelling limits to play with. Much inspiration for this project comes from the parallel between abstracting and minimalizing images to create meaning and the human nature of establishing and transforming language."
I think the only thing that feels slightly off is given how smooth and thoughtful the game is when you play it, the thunderous crashes of the start screen feel jarring. Anyway, it's LOVELY.