Skyblivion looks even more like Oblivion rebuilt in Skyrim
A huge project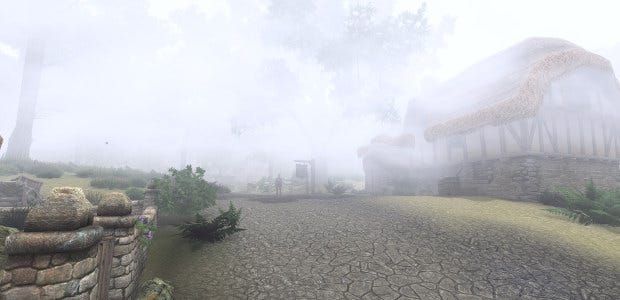 Skyblivion [official site], the huge fan project to remake The Elder Scrolls IV: Oblivion as a Skyrim mod, is picking up pace. We had a peek at their progress in December and, the dev team say, that video helped them recruit a load more help. "We have made more progress in the 2 months after the release of our update video than we have in the year prior to it," they say. Crumbs! So let's take a look at a new video showing what they've done in those two months:
That's some nice-looking stuff! Like Oblivion, but in Skyrim. A prettier Oblivion. Obprettyone, they could call it.
The Skyblivion mob detail their progress:
"Here is a list of what's new: more weapon sets have been created and the 3D department has started work on more environmental assets that will help us re-shape the land of Cyrodiil for the better, our UI team has been hard at work creating a Oblivion inspired user interface which will allow us to give players more insight into their characters progression, the landscaping team has made HUGE strides with recreating the vast landscapes of Cyrodiil and what you have seen here was only a small taste of what we have in store, the interior team has blown us away with the work they have completed on the interior locations so far and their work will only be added upon in the future when we start adding more detail and clutter to them, quests are now at a stage where we can start implementing them thanks to our tech team, our navmeshers have completed almost every corner of Cyrodiil and our texture artists have finished big chunks of Cyrodiil's textures like the landscape textures for instance."
Remaking a game that's ten years old inside a game that's five years old still slightly puzzles me but hey, it's clearly a labour of love and we can't rationalise love. Do you know what people in love do? With each other? Have you seen them? Are you okay with that? At least the Skyblivion gang have the decency to keep their love inside computers.
Still no clear picture of when Skyblivion be done. If you fancy helping, the team point hopeful volunteers to this form.