Fus Vee Ah! Skyrim VR jacking into PC next month
FUS V R!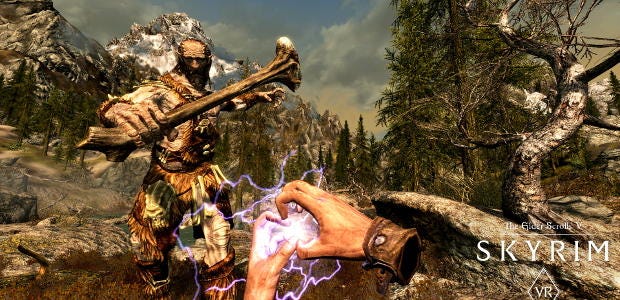 Given that the iconic image of Skyrim is a fella wearing a Knightmare-esque bucket on his head, it's only fitting that Bethesda want you to strap cybergoggles onto your head to enter the fantasy RPG's world. Today they announced a PC release for The Elder Scrolls V: Skyrim VR, a new standalone version built for cybergoggles. Skyrim VR debuted on PlayStation VR in November 2017, and now it's headed to PC on April 3rd. It seems a terrible shame that the game doesn't (as far as I know) use goggle microphones to control dragon shouts.
Skyrim VR is Skyrim, yeah, but in VR. It comes with the Dawnguard, Hearthfire, and Dragonborn DLCs built in. And yes, like Fallout 4 VR it is a wholly separate paid game, not offered as an upgrade and seemingly not offering a discount to existing Skyrim owners.
Bethesda say Skyrim VR uses SteamVR so, despite the recent courthouse rumble between their parent company and Oculus, it will work with HTC Vive and Oculus Rift goggles as well as compatible others. And it'll support both motion controllers and gamepads.
Doing wizardhands and swinging axes makes Skyrim seem a better fit for VR than Fallout 4, though unless Bethesda have made some changes I suspect some of the problems our Alec had with that might apply here. As he wrote:
"This being Fallout 4 rather than a new Fallout made from the ground up in VR, a lot of the interactions are essentially menu-based rather than physical. You don't reach out to slap a door open button, for instance, but raise your wand and click a text option to do it. In other words, you're regularly checking your own actions, going against the psychical intuition that a VR world encourages. All told, I never felt at home with the controls, and wished I could just play it on a gamepad instead – or could just sit with a mouse and keyboard, in front of a nice, crisp monitor."
Skyrim VR is coming to Steam on April 3rd, priced at £40/€60/$60.