Smite Tactics closed beta offers paid insta-access Founder's Pack
Help is now to be found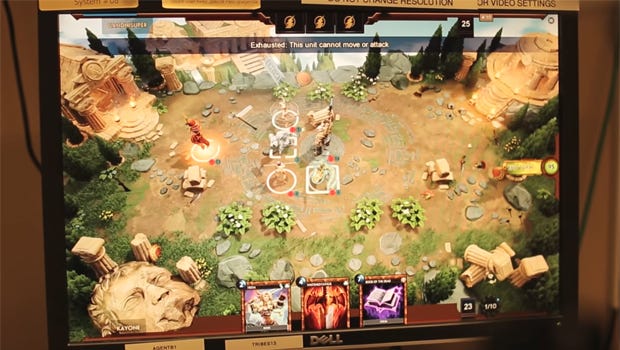 Smite Tactics [official site] is now officially in closed beta. That's the turn-based strategy card game from Hi-Rez that uses the same setting as their MOBA, Smite. You build decks and spawn units onto a battlefield - I've seen it put in the same category as Duelyst although I haven't carved out the time to play the latter yet.
Couple this with the other announcement today that Smite Rivals is a collectible card arena game which exists and I'm going to spend the rest of my career double-checking which game I'm actually talking about in any given article. ANYWAY! This is what closed beta means in the context of Smite Tactics:
First I'll recap what Tactics actually is in case you've not seen it mentioned round these parts before. You have a battleground where you can spawn units and a hand of cards with which you control the action. The battlegrounds themselves function as grids so you can also reposition units and the leader character (a god from the pantheon you're playing as) as part of the strategic play.
Turning to the closed beta specifically, as well as the usual tweaks-in-response to feedback and general work-in-progressness of a game at that stage of development, the development team also point out that they've added a full tutorial (something not present in the alpha).
As per the info I have to hand:
"New players will be challenged to complete a campaign against AI to unlock the Norse and Egyptian pantheons. The Greek pantheon is available immediately for players to practice deck building before matching their skills against other Closed Beta players. New cards for each pantheon were released along with the Closed Beta.

"SMITE Tactics will continue to release new cards throughout the Closed Beta, with a new Chinese pantheon being added to the game in early 2017. Hi-Rez Studios also plans to expand the Closed Beta to console in the upcoming months."
There's also the additional point to note which is that for a fee you don't have to rely on the signup fairy smiling upon your details for access. As of the closed beta, there's now a Founder's Pack for sale which essentially offers immediate access, 15 card packs, an exclusive icon, a set of legendary cards featuring Greek goddess Enyo plus a couple of crossover items for Smite (a Bellona skin and a loading frame). There's a 25% discount on the normal price of that Founder's Pack until 12 January.
If you'd prefer the signup fairy lottery there's a box you can fill in over on the Smite Tactics site.
News of Smite Tactics comes alongside a slew of Smite-related news, including the Smite Rivals announcement mentioned above and a breakdown of changes including a new hero coming to Smite for season four.