Sniper Elite 4 Announced, Going To Italy
Click-clack bang!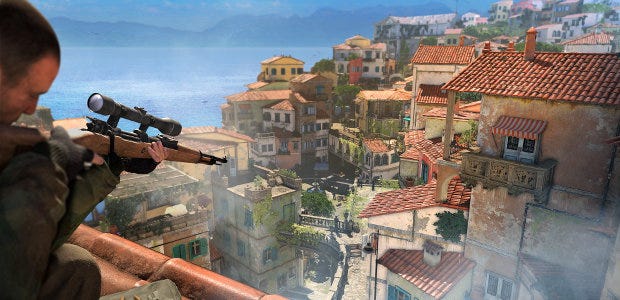 Rebellion are returning to World War 2 for more sneaky sniping action later this year, having today announced Sniper Elite 4. This time, Ian Elite is headed to Italy to fight with the resistance against the forces of fascism. While we see Nazis in movies and video games all the time, Mussolini and friends are less common. Is the most known pop culture image of them perhaps from Allo Allo? Bit less sunny in reality, that lot. Anyway, yes, Sniper Elite 4 is announced and coming this year. Observe, a trailer:
Rebellion say that this is "the first game in the series built without the constraints of older hardware and aims to deliver the definitive World War Two shooter for a generation", which I think means it'll be prettier. They also say to expect levels "many times the size" of those in Sniper Elite 3, sending Ian everywhere "from sun-drenched Mediterranean coastal towns, to colossal Nazi megastructures, daunting forests and giddying mountain monasteries inspired by Monte Cassino."
Hey, if I'm going to be peering at landscapes through a sniper scope, I want them to be daunting and giddying.
Along with a campaign, it'll have cooperative and competitive multiplayer modes. Here's a suggestion for Rebellion: if you're thinking of a Capture the Flag mode, how about Capture The Fallen Madonna with the Big Boobies?