Have You Played... Sokobond?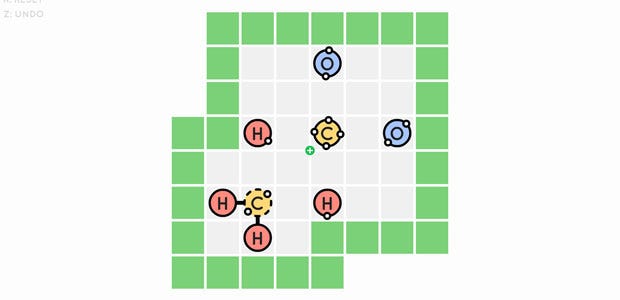 Have You Played? is an endless stream of game recommendations. One a day, every day of the year, perhaps for all time.
Here's a lovely game about building molecules correctly.
Sokobond is by Alan Hazelden (A Good Snowman Is Hard To Build) and Harry Lee (Stickets) and it is very much My Kind Of Thing.
What you do is you move an atom around so that it can bond with other atoms in the correct manner to form the molecule designated by the puzzle. The information that it uses as the basis for the puzzles is based on actual molecular chemistry, but knowledge of that chemistry is not required from the player. Instead you're expected to observe a few basic rules regarding making and breaking connections and moving round the space, then left to solve the levels, creating the molecules as a byproduct of that solution.
It's a beautiful game, stuffed with elegant little puzzles which get into your brain and lodge there until you find a solution.