Soon, Shoot Many Robots Will Let You Shoot Many People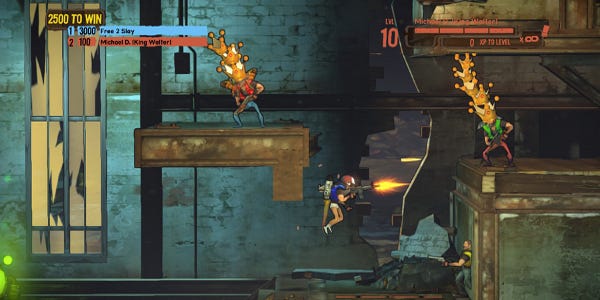 Hey, remember that one game with all those snazzy guns and that Gordon Freeman guy? You know, Shoot Many Robots? Well, it's headed in a rather unexpected new direction. After beginning life as a (relatively cheap) purchasable product, it's now launching a fully standalone free-to-play PVP extension. Titled "Arena Kings," it comes with the most uncharacteristically no-frills description ever: "Arena Kings is a PvP shooter set in the same world as Shoot Many Robots." In truth, though, it sounds like Demiurge is dedicated to making this far more than a many-robot-shooting shot in the dark.
Arena Kings is set to launch with a mode called Royal Flush, which... well, just read this: "In 'Royal Flush' the Kings must murder each other to collect their crowns, and flush them down a teleporting golden toilet, naturally." Errr, OK. But wait, here's the interesting part: "New content and updates are being added to the game weekly, based on feedback received directly from players. Don't just stay tuned to see what happens next - be a part of it!"
So it sounds impressively player-driven, though I've sent a mail asking whether that's a beta-only policy or something along the lines of, say, TF2 - i.e. continually making thunderous evolutionary strides over the course of its entire lifetime. That latter, of course, could lead to a wildly different game than the one Demiurge started with, which is - regardless of whether or not you like the outcome - one of the most exciting superpowers at PC gaming's disposal these days, I think.
If you're interested, you can sign up for the beta here. Admittedly, I never played the original Shoot Many Robots, but I definitely plan to keep an eye on this one. I've played a million arcade-style side-scrolling co-op blast-a-thons before, but I can definitely get behind the idea of a competitive F2P spin on that formula. And, of course, the growth possibilities are quite intriguing. Perhaps we'll even eventually be able to engage in a wider range of activities - for instance, Having Afternoon Tea With Many Robots or Criticizing The State Of Post-Colonial Literature With Many Robots. Or maybe we'll just get more guns. But I'm brushing up on my Joseph Conrad just in case.