Spintires: MudRunner's Steam Workshop adds map support
Mud, mud, glorious mud!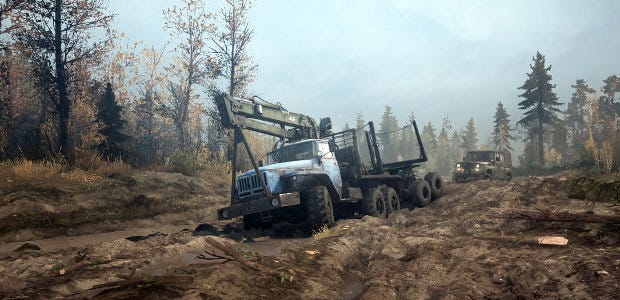 Probably the main reason to buy Spintires: MudRunner if you already owned the wonderful original is the prospect of ongoing support, of what the game might become under the stewardship of publishers who aren't publicly feuding with the game's creator. Today saw the release of a new update expanding the muddy drive 'em up's Steam Workshop to support maps too, making it easier to download and play other players' creations. Another free content update will follow, and work has also begun on some American mud.
Maps are already going up in MudRunner's Workshop. The game already supported player-made maps but players would need to go through fan-run websites then download and install them themselves. Steam Workshop support means you just click Subscribe on a map you want to get stuck into and Steam does the rest for you. Handy. And the Workshop already has loads of mods adding new vehicles.
As for official new content, publishers Focus Home say they're working on a new free update that's "similar" to the one they released in February. That added one new map, three new vehicles, and some new truck bits.
Work also continues on what they're tentatively titling MudRunner USA, which will get stuck in some American trucks stuck in good ol' American mud. They're planning to release that this year, and I assume it will be a paid expansion? I don't know. All their talk about it is hazy.
Do also check out Andy Sellick's recent celebration of the joys of driving very slowly through mud.