Square Enix Collective bringing seven games to Rezzed
From crime capers to head-stealing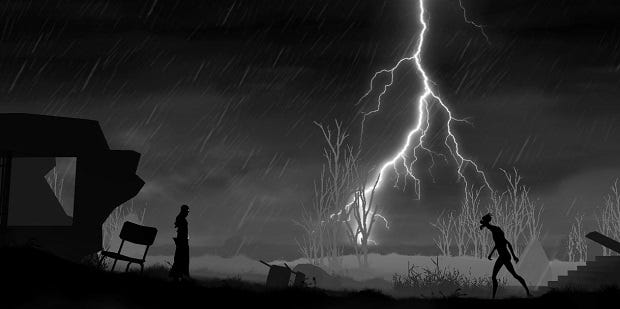 The Square Enix Collective, Squeenix's crowdfunding support and indie publishing arm, is bringing seven playable games to Rezzed. Three will be playable for the first time and all are set for release this year. There's Inside-like communist dystopia, Black the Fall [official site], head-capturing multiplayer arcade game Oh My Godheads [official site], the new Fear Effect game [Steam page], and more. Four more to be precise. Details and trailers for all are below, and if you want to know more about Rezzed, including our involvement, check out the website where tickets are still available. Hope to see you there!
I haven't played any of these games yet so if you do want to meet me, the Square Enix Collective booth would be one place to check. Do be aware though that if you distract me while I'm trying and failing to succeed at a game, particularly if it's a multiplayer game, I will look very disappointed. Thankfully, my disappointed expression is extremely handsome so do say hello wherever you spot me.
Here are the games with their official descriptions:
Black The Fall is a puzzle game set-up in a communist dystopian era.

Playing as Black, an obedient factory worker, the player gets one chance to outsmart the oppressive system. But the road to freedom is paved with puzzles, pitfalls and manipulation. A door malfunctions, an opportunity arises. Once out, how does one survive?
Oh My Godheads is the world's first capture-the-head action game for 2-4 players. Capture-the-head is like capture-the-flag, but the flag is an ancient head that's alive, angry, and after you! Players fight with friends to capture these furious, living heads and bring them back to their team's plinth...if they can.
Be part of a new Fear Effect adventure with Fear Effect Sedna, a new game in the classic series made popular on the original PlayStation console. With a whole new story, and shifting to a pausable real-time tactical action style, players will be able to control the team strategically and tackle enemies and puzzles alike.
Deadbeat Heroes is a Movement based 3D brawler where you (and a friend) dodge bullets, steal super powers and crack wise. You play as the new wave of 'Deadbeat Heroes'. Not born with their own powers, they are armed with a prototype super gauntlet - which has the ability to 'borrow' the powers of others. You will (both) vie to win the hearts of the public with your amazing derring do, while not getting shot, sliced, lasered, exploded, vaporized, eaten...
Children of Zodiarcs is a story-driven, single-player tactical RPG that combines traditional strategic gameplay with the thrill of collectible cards and craftable dice!
Forgotton Anne is a 2D cinematic adventure game combining puzzle platforming with adventure game elements. You play as Anne, the enforcer who keeps order in the Forgotten Lands, as she sets out to squash a rebellion that might prevent her master, Bonku, and herself from returning to the human world...
Detective Itō`s partner is missing, but what starts as a straightforward case soon spirals into a twisted nightmare, which forces Itō to confront her past and question her own sanity.
Let's steal some heads.