Bez Simulator 2015: Stage Presence Released
Sing for your supper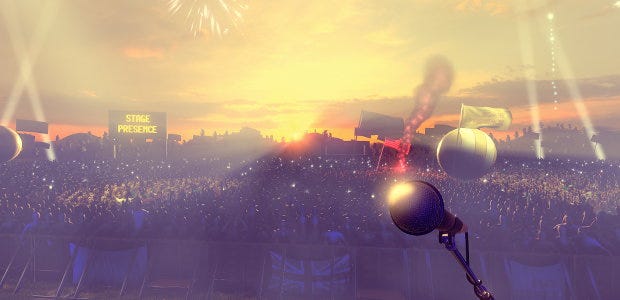 I had a gig recently, you know. The Ladies' Pond Boadicea Mermaid Choir entertained three dozen swimmers on a sunny afternoon with our songs of water and swimming. As seasoned an entertainer as I now am, I'm still not quite ready for the challenge of Stage Presence [official site].
Headlining a festival, your band's gear gives out and it's up to you to entertain the crowd with your own desktop microphone lest they become... discontent. If you think yourself a natural showman - or need the training - you give it a crack yourself, as it's out now on Itch for $2.
There you are, up on stage, with no music and a vast crowd before you. Entertain them by singing or whatnot (it's a little more involved than simply making any noise into your microphone - they'll become bored), or things will turn sour. Bottles will rain down upon the stage, spraying what I hope is beer, and people will boo and jeer and shine laser pointers at your eyes.
Along with a story mode where you need to run down a timer until your equipment's fixed, it has a survival mode where you try to last as long as possible, and a karaoke mode which'll let you keep on singing no matter what.
Stage Presence required an Oculus Rift when we looked at it last year, but that's now optional. If you do have cybergoggles, though, you can duck around to dodge projectiles.
Here's creator Jon Dadley winning the crowd over with a pretty good Bowie:
The game's having a crack at Steam Greenlight too.