Staxel brings more farm-o-craft antics to early access
Two in one day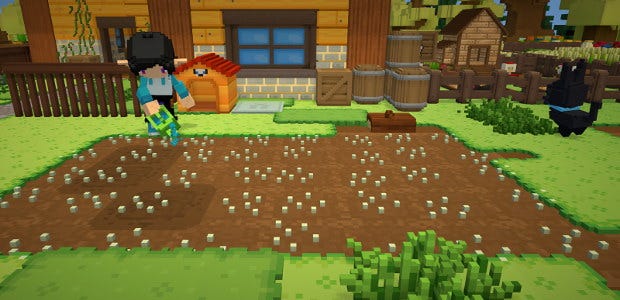 It's typical, eh: you wait ages for a Stardew-o-Harvest-a-Crossing crafty farming daily life sim, then two come along to early access at once. My Time At Portia today delivers a cheery vision of the post-apocalypse, while Staxel here has more of a fairytale vibe and Minecraft-y style, not to mention online multiplayer. Yes, it is weird that neither crafty farmy miner has flinched in this game of chicken. But hey, they're here now. Let's peek at Staxel.
Staxel is going for a first-person Minecraft-ish voxely vibe as we- lawks, look at that, it's is also about arriving in a village to restore a run-down farm to its former etc. Hey, I have seen entire genres built upon far worse stories. As is the way, we'll get to grow crops, raise animals, expand the farm, befriend villagers, and so on. And as you might guess from the Minecraft-y look, it also lets players reshape the world block-by-block.
A little touch I like the look of: crafting tables include actual tools such as a saw that drags wood through while planking it.
Early access is planned to continue "well into late 2018", or perhaps longer depending on what players want. The official word is that the makers "plan to increase the number and scale of quests, add more interaction with NPCs, and give more focus to animals and husbandry." Is that animal husbandry or- ah, maybe I don't want to know.
Staxel costs £15/€20/$20 on Steam and the Humble Store (who give a Steam key anyway). It's made by Plukit and published by Humble Bundle on their own label.