Strange Brigade sizes up E3 in a stiff-upper-lipped trailer
For Tomb-king and country!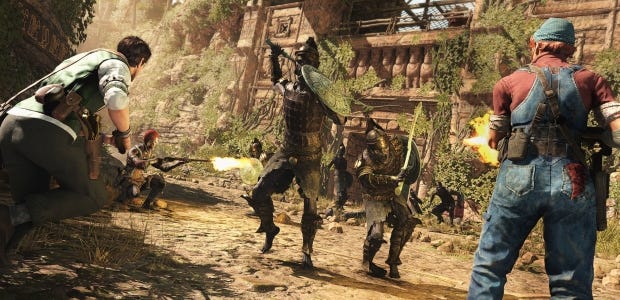 Mummies! They're like zombies, but easier to clean up once you're finished with them, at least according to Strange Brigade's new gameplay trailer. The cooperative 1930s-set shooter isn't far off now - due out at the end of August - but Rebellion have apparently got one last PR blitz in them before E3 swallows all and everything blurs into one nightmare gaming haze. Within, a very pulp serial trailer, featuring one of the most cheerfully bombastic narrators around.
I got to play a brief chunk of Strange Brigade at Rezzed previously, and while I didn't have the chance to play the whole demo due to needing to catch the literal last train home, I did enjoy my brief time with it. It feels like a logical expansion of the formula Rebellion started with their Zombie Army Trilogy games (themselves a spinoff from Sniper Elite 3), with its familiar mix of slow moving swarms of undead punctuated with faster or more powerful enemies with more supernatural attacks.
Strange Brigade is bringing a few tricks of its own to the table, including puzzles used to protect valuable bonus treasures. While some can be solved at a glance, some require team coordination, like ancient combination-locks that require one player to relay the answer to the person spinning the tumblers. Each character also has access to supernatural smartbomb-like powers, and the map is littered with traps that are far deadlier to slow-moving undead than agile and wary adventurers. It's good solid fun, although I worry that won't be enough to stand out from the E3 crowd.
If you're looking to hire the Strange Brigade, maybe you can find them on Steam and Humble. They don't work cheap, though, with the regular edition of the game priced at £40/$50, and a fancy edition with extra guns and a season pass will set you back £65/$80. They're also not available for work until August 28th.