Stronghold HD: Free with every meninist fever-dream
When men were men, and women were killbots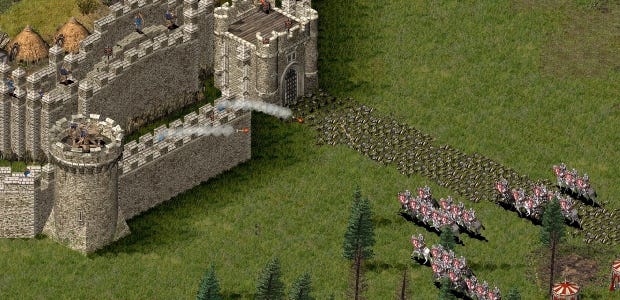 We might be drowning in big-budget games this month, but GOG reckon that you should spare a thought for the venerable old gems that brought us here. They're doing another of their giveaways today, and this time it's a double: Castle building/besieging RTS Stronghold HD, and A.D. 2044, a Polish point-and-click adventure from 1996 that I must admit no familiarity with.
I know! Let's make this an adventure in international videogame history: Come join me as we read through A.D. 2044's plot synopsis after the jump, after a little look at Stronghold HD.
If you've never played it before, Stronghold HD holds up surprisingly well to this day, offering a much more technical and defensively-focused RTS than most modern offerings. The upgrade to HD resolutions allows for a wider, clearer view of the battlefield that the original 2002 release and there's even some gameplay upgrades lifted from the Stronghold Extreme release, including a nearly limitless unit cap.
Alright, now let's take a look at A.D. 2044!
The future is now, the year 2044 to be exact and the world has changed dramatically. Male civilisation is on the verge of extinction. Genetic engineering has made human reproduction possible without the need for man's involvement. Women have decided to fight their final battle and to shape the world the way they want it.
Oh.
But if that's not enough, women have a new laser weapon which kills only men, and the few remaining men are being turned into "she clones" in the bionic clinics. And there's more, a rebel feminist has stolen a supply of warheads and intents to start a global nuclear war.
Oh.
Wait though, there's a glimmer of hope. You are the last remaining normal male and if you can avoid these female superpowers, you can reverse their domination. But hurry, you don't have much time, the clock is ticking, your fate seems sealed, unless...
Yeah... No.
My first reaction to that dunderheaded wall of text was bafflement, then rationalisation (it can't be THAT bad). But a quick peek at some footage reveals a world of awkward CGI fembots, stomping on the player's face with their stiletto-heeled feet.
Picking up this bundle (even if it is free) feels almost like some kind of Faustian pact. Sure, you get Stronghold HD for free - a game well worth playing - but your GOG account will forever bear this mark of shame. So just how badly do you want it?