Stuff's Coming: Telltale's Game Of Thrones Ep 5 Next Week
Literal or metaphorical vipers?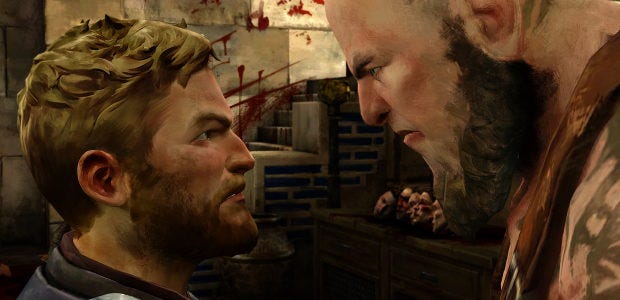 Knowing nowt about Game of Thrones, I have little idea what counts as a spoiler - though I know GoT fans can be outraged by the slightest hint. If I tell you that Episode 5 of Telltale's Game of thrones [official site] is titled 'A Nest of Vipers', does that give anything away? Does GoT have a gang of hoodlums named The Vipers? Is it simply hinting at treachery? Is there a literal nest of venomous snakes? Who knows! Not me. However, I feel confidently unspoilery telling you that the episode is due out next Tuesday, July 21st.
Unsurprisingly, the rest of this post does include spoilers, including a trailer showing a bit of what's about to go down (I don't see a single snake, myself).
Even I can tell Telltale's description of this episode is a touch spoilery:
"In this penultimate episode, the actions of every Forrester are vital to the survival of the house. Rodrik's alliance with House Glenmore, and his defiance of the Whitehills, has drawn the ire of an even greater threat: Ramsay Snow. Far across the Narrow Sea in Essos, with Meereen now a free city, Asher is close to securing the army he desperately needs to return home, and save his family. In King's Landing, Mira's activities at Tommen's coronation have not escaped the attention of Margaery Tyrell, and Cersei has realized that the handmaiden may prove useful in her political games. Finally, beyond the Wall, Gared's unlikely allies are reluctant to help in the search for the North Grove... but this far into the frozen wilds, Crows and Free Folk have a common enemy; and winter is coming."
And this trailer? Yeah, obviously:
How are you finding it so far, gang? What sort of a head do you think events are headed towards for the finale in Episode 6?