"Watch A Dude Stick Stuff In His Mouth": Succulent
And then it gets weird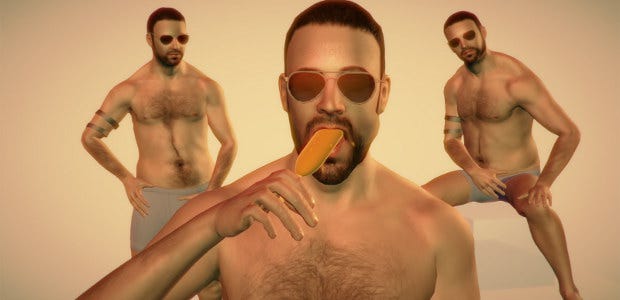 Robert Yang is putting his hunky guy to work. Tanned, groomed, ripped, oil-slicked, and stripped, the same beefcake character model has starred in his last two games exploring gay male sexuality and culture. Last time he implored us to "Hurt Me Plenty" and spank him through a Leap Motion controller, now he and two clones are in control in Succulent with a funny and unsettling seduction involving the sexually aggressive eating of an ice lolly.
It's a treat I think you'd enjoy most without explanation, so do download it and have a go. It is free and only takes a few minutes. Well, depending on how quick you are. But now: explaining.
Yang (who has written fine things for us, if you haven't read 'em), calls it an homage to "homo hop" music videos, also inspired by scenes in the movie Inherent Vice where a chap eats a frozen banana. "They were unusually entertaining and not at all arousing, which got me thinking -- what if I made a game where you just watch a dude stick stuff in his mouth?" Well!
You end up with a hilarious and unsettling game where you move a black-eyed man's arm to jam a lolly into his mouth, his cheeks bulging as he makes eager noises of satisfaction, while two identical chaps behind him nod and rub their crotches. And then it gets weird.
It's both celebratory and critical, a fine demonstration of confronting tricky issues with humour. Hit his blog post for all the words, but here's Yang explaining his reuse of this character model and its eerie black eyes here, asking "why shouldn't this be a little creepy, the idea of gay men fitting into this homogeneous skin color and body type and hair cut, of endless copies?"
"In the 70s, they called them "Castro clones", after all the gay men in San Francisco's Castro district who dressed alike and still mostly do. This is an ideology my recent gay games have been replicating through their heavy asset reuse of the sole character mesh I commissioned; an emphasis on certain masculine bodies to model for the entirety of a community. You sadly get used to this, as a gay man of color -- the vast majority of gay men depicted in media are white and masculine, and if you don't fit in then you get erased within your own community. How can this possibly be the "liberation" we were promised? For many queer-identifying men, this monoculture feels stifling and we feel compelled to try to escape and seek alternate spaces."
Succulent and Hurt Me Plenty feel related to How Do You Do It? in a way. Nina Freeman's game has dolls as props to explore childhood imagination about what sex even is, while these games have Yang exploring adult realities of sexuality with this one puppet.
He did later release a version of Hurt Me Plenty which doesn't need a Leap Motion controller to play, by the way. You'll find it free over here.
Oh, go on, have a video showing a bit from the start of Succulent: