Sudden Strike 4 getting tactical in August
This means war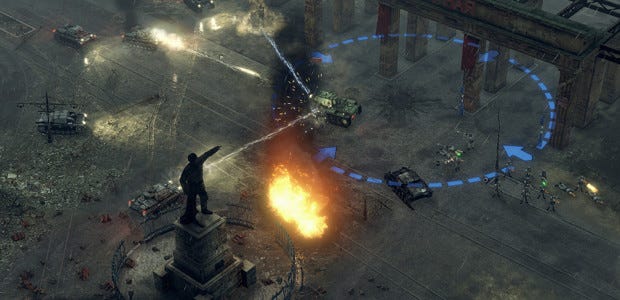 World War 2 real-time tactics game Sudden Strike 4 [official site] will launch on August 11th, publishers Kalypso Media have announced. That's seventeen years since the series started. Seventeen! While Sudden Strike was created by Fireglow, newcomers Kite Games take over for 4 - though the preview bit our Adam played suggests it's still very Sudden Strike-y.
As Adam said in August:
"The brief time I've spent with it suggests that this is a faithful sequel, and while it doesn't quite appear to have the mischievous intelligence of R.U.S.E. or the superb atmosphere of Company of Heroes, it's a World War II game with something to offer that we haven't seen in some time. Slow-paced, deliberate and focused real-time tactical combat, with hand-crafted battlefields that change subtly with every encounter. When one destroyed tank created a deadly traffic jam that saw my support units and armour alike queueing up to die, I felt entirely responsible. And more than a little tactically inept. When so many games allow for recovery from all but the most long-term blunders (or the poorest of foundations laid in the initial stages), I'm glad to play an RTS in which a single error of judgement or planning can lead to panic and a complete collapse."
Sudden Strike 4 is coming to Windows, Mac, and Linux on August 11th. Here's a wee viddy vee from December 2016: