Surviving Mars's Space Race expansion brings rivalries to the red planet
Get everyone's asses to Mars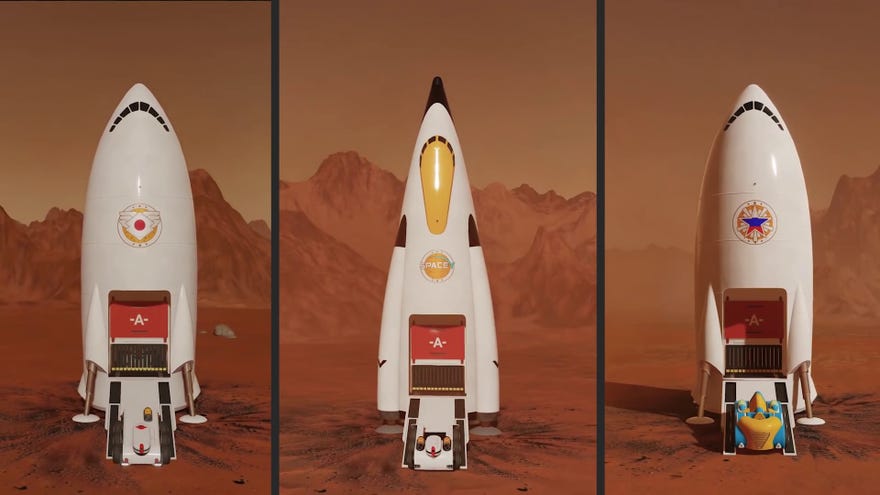 Surviving Mars's initial foray into off-world colonisation is bearing fruit, as developers Haemimont have announced Space Race, its first expansion grown on Martian soil. While the original game was purely a story of mankind struggling against a hostile environment, the Space Race expansion sounds a little more realistic - this time you've got AI-controlled corporate and national rivals. While you won't be declaring war on anyone, you're still in competition, and there's always the option to headhunt talent from rival colonies. Below, the reveal trailer.
In the Space Race expansion, you'll have to deal with having neighbours. Publisher Paradox say that you and your rivals will "compete for milestones, already limited resources and anomalies", and you can decide how good or bad a neighbour you want to be. Trade is always an option, and in the case of disaster (either yours or theirs) distress calls and any response to them will skew the balance of power further. While it sounds like everything will be handled peacefully, there's nothing stopping you from muscling in on turf that your rivals have their eye on.
This expansion also puts more emphasis on the national sponsors. There's two more - Japan and Brazil - and each sponsor has a unique vehicle and building type, plus their own challenges to complete. There's also mention of "narrative events" to spice things up - new happenings within the domes, and problems to contend with. The expansion will come in regular and Plus flavours, with the latter including the Marsvision Song Contest radio station (with a very international mix of tracks), and 25 new cosmetic building types.
Surviving Mars: Space Race doesn't have a release date, the Paradox Store page has a price - £9.26 (roughly $12) for the regular edition, while the 'Plus' version will cost £13.94 (around $18). The base game is currently 30% discounted on Humble.