Don't Click: Syberia 3 Delayed Into 2017
Just say "when it's done"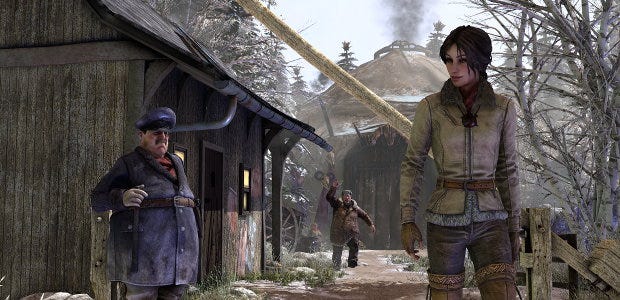 The saga of Kate Walker and Syberia 3 [official site] continues in a not-great but not wholly surprising way. Six years after it was originally due to launch, and two months before its latest release date, the pointy 'n' clicky adventure game is delayed once more. French studio Microïds want more time to make it good, which is fair enough. Syberia 3 is now due in 2017, some time before April.
Here's the explanation from creative director Benoit Sokal:
"I am obviously disappointed that Syberia 3 is delayed because we would like to release our games as soon as the storyline is written, but I'm also relieved that Microïds has taken the decision to postpone the game's launch because it is essential to offer players the best gaming experience possible. We decided to add even more cinematics to this new fiction, more optional narrative sequences as well as new languages for the voice-over, which represents considerable work for teams."
If you're wondering what this whole 'Syberia' thing is about, here's John on the first game. Though, y'know, he's less forgiving than some adventureheads.
I'm never upset by developers delaying games - better a good game later than an unfinished one now, right? - but at a certain point it does become comical. Syberia 3 is definitely past that point. This is what the release date "when it's done" is for. Were I longing for Syberia, I might seek consolation from the wisdom of the Backstreet Boys.