The Reel Ghostbuster: Spooky Recordings In Sylvio
Searching for ghostly messages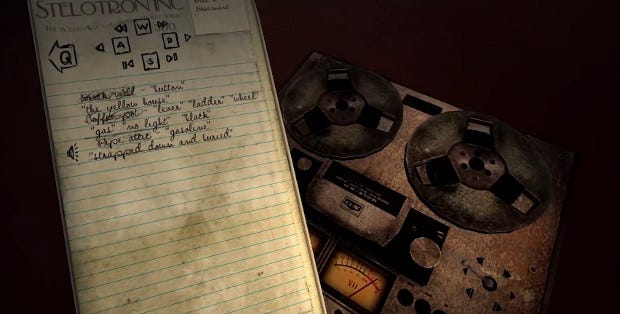 I would very much like to play a video game where I'm a paranormal investigator sneaking around haunted places, trying to record messages from the dead on my trusty reel-to-reel recorder. Sylvio has that. But, oh and it's a big but, it also has a wacky aerosol-powered shotgun loaded with ammunition from rusty old bolts to potatoes to blast ghosts. That is somewhat outside the game I imagined based on the first twenty seconds of this gameplay trailer. I really do fancy playing with that recorder though, uncovering ghostly messages by playing tapes slowly or, as 9 out of 10 satans recommend, in reverse.
See, Juliette Waters is off to investigating a park that's been closed to the public for years, where locals whisper of a curse named... Sylvio. It's more dramatic than Agnes, at least. Wilfred. Alfie. Off goes Juliette, armed with a fancy ghost-detecting microphone, a big rusty reel-to-reel recorder, and that damned shotgun.
Perhaps I've unknowingly degenerated into a horrible self-parody who wants everything to be a walking simulator, but I long to rip 'game-y' bits out of games when they don't seem to fit. The combat in this video doesn't look fun. Loading a shotgun with food and scrap metal looks ridiculous. Roaming red-misted woods, searching abandoned houses, waving a magic ghost-detecting microphone, scanning recordings for messages from beyond, solving puzzles, and, heck, even driving a wonky car all interest me. Then you get a gun to fire oranges at a ghost. Oh, I don't know.
Here, have a look. You can can help free it from the nether realm of Steam Greenlight if you fancy.