Tamriel, Man: Skywind Squeezes Morrowind Into Skyrim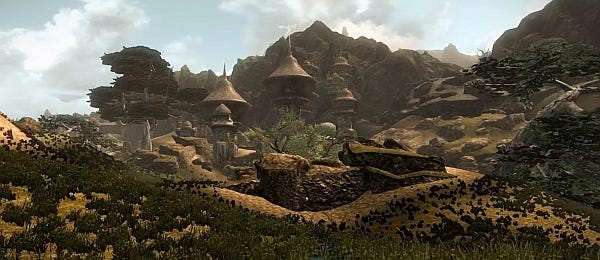 If someone is keeping a Big List Of Inevitable Things somewhere, they can cross out 'modders remaking Morrowind in the Skyrim engine'. For it is no longer inevitable, but is in fact, er, evitable? No, that's not right. Though I guess you could avoid it, but that would make the modders of Skywind very sad indeed, because all their hard work in rebuilding Morrowind is worth looking at. Even if you just coo over the videos below, because cooing over the scenery is pretty much all that's possible right now.

They've built most of the world, but the tricky part of adding NPCs, quests, and skills has yet to come. So if you do manage to skip through the several steps required to download and install the thing, including owning the original Morrowind and its expansions, when you decide to leave Skyrim and visit Morrowind you'll just hanging about awkwardly. Questless. At least you won't upset anyone if you run around naked in this empty land of nothing. In fact, feel free to download one of those mods where you add a mighty wang to your character and let it flap about. There's no-one there to judge you.
Check it, yo.
Via das Reddit.