Verdun expandalone Tannenberg hits WW1 Eastern Front
Nice forest!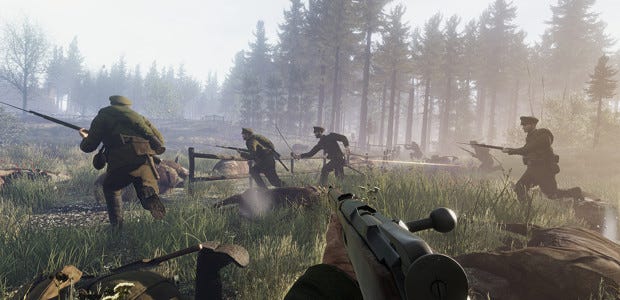 World War 1 FPS Verdun is off to the Eastern Front in a standalone expansion this year, developers Blackmill Games and M2H have announced. Named simply Tannenberg [official site], after 1914's Battle of Tannenberg, it'll see the Russian Empire scrapping with the Central Powers from forest to plains. Verdun is fairly serious as shooters go, more Red Orchestra than Battlefield, and Tannenberg will continue that with new men, maps, weapons, tactics, and all that. Check out the announcement trailer:
Here's what today's announcement says about shiny newness:
"A brand new game mode designed for player counts of 32+ captures the mobile nature of battle in the East, while the open fields and pastures offer tactical freedom and require different survival skills to the no man's land of the Western Front.

"The Entente will face off against the Central Powers across diverse landscapes ranging from exposed snowy plains and thick forests to burned villages and mountain pastures. Fresh tactics will be required to win the day in the authentic landscapes of these new locations, which are a long way from the muddy Western Front trenches. Different squads will bring with them a range of new weapons, all of which have been carefully crafted with the attention to detail Verdun players have come to expect."
Tannenberg is coming to Steam some time later this year.