Jeff Minter making Tempest 4000 for Atari
Llamas at the ready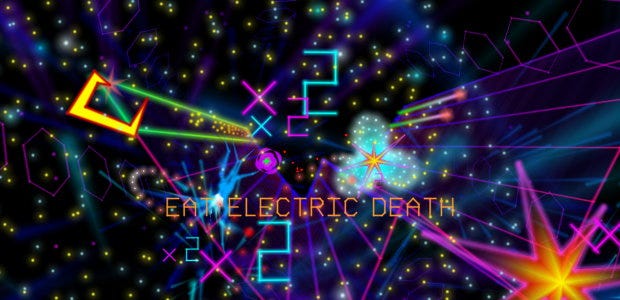 Jeff Minter is revisiting Tempest later this year in Tempest 4000, the creature wearing the skin of Atari announced today. This is mighty surprising, considering Minter has said the creature tried to kill his TxK, the Tempest-ish shooter he released in 2014. Their apparent reconciliation is definitely welcome news, mind. No one does loud, colourful, intense, and silly arcade action just like Minter. He was behind Tempest 2000, the widely-admired Tempest remake first released on Atari Jaguar, and has only grown more Minterly across the years through games including Space Giraffe and Polybius.
At this point, the creature wearing the skin of Atari have nothing to show of Tempest 4000 - not even a logo. (In the absence of anything, I've used a TxK screenshot ? up there.) This should be worrying.
The creature is notorious for releasing bad games trying to coast on the former glories of old brands. RollerCoaster Tycoon World was a duffer. Early access survival sandbox Asteroids: Outpost was a mystifying use of the Asteroids name, and one that was quietly abandoned then pulled from sale. Even using the Atari name is iffy, as it's been sold several times to different companies (these days, the skin is worn by Infogrames).
And yet I am excited. Surely even the creature wearing the skin of Atari can't ruin a Tempest-y Jeff Minter game. Well, other than when they try to kill 'em.
In 2015, Minter alleged that the creature wearing the skin of Atari's lawyers tried to shut down TxK, wanting Minter to pull it from sale and never make anything Tempest-ish ever again. Minter said their complaints include the claim that TxK must have had access to the source code of Tempest 2000 - a game Minter himself wrote. The other accusations he said they made sound just as silly. TxK is still on sale but, sadly, Minter never did release a PC version.
Atari and Minter do seem to have settled things now.
"I am very happy to work with Atari again to bring a long-awaited sequel of Tempest to our legion of fans and a new generation of gamers worldwide," Minter said in today's announcement.
Tempest 4000 is coming to PC this year during the "holiday season", so November/December-ish. I trust that Jeff Minter can make another ridiculous shooter full of colours and particles and slogans and noises and llama references.
Minter's most recent game, Polybius, is also on its way to PC.