The Darkside Detective wraps up season one today
You'll laugh, you'll cry, you'll possibly hurl at otherworldy horrors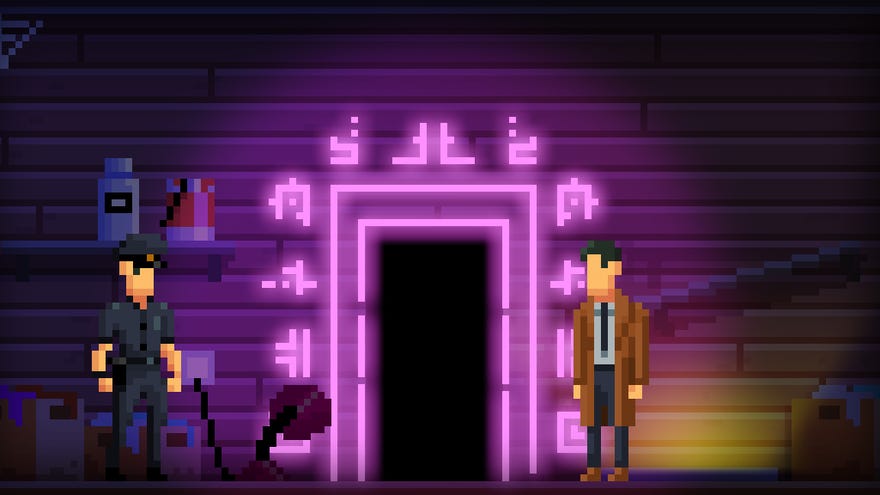 Silly spooky adventure game The Darkside Detective today adds its ninth and final case to close out its first season. It brings a rare day of downtime for our detective and his uniformed sidekick, visiting a museum named Trout Of This World and that's enough to make me want in. Our former Adam (RPS in peace) enjoyed the first six episodes the game started with, saying in his Darkside Detective review that it's "a small but perfectly formed paranormal adventure that is full of good things." The episode is rolling across different stores today, and it looks a lark in this here new trailer:
The final episode of season one is named 'Baits Motel' and, starts out with a visit to "Trout Of This World, a museum for oddities fished from Lake Monster," to celebrate Officer Dooley's birthday. I'd start suspecting motelmummurders but I'm too distracted by the prospect of Trout Of This World. I'm in. Developers Spooky Doorway call Baits Motel a "high-octane, action-packed, probably explosion-filled finale" and why would they joke/lie about explosions?
It is nice that we're doing something for Dooley.
"Officer Dooley is the best point and click character I've met in ages, and I say that having thoroughly enjoyed the company of Thimbleweed Park's misfits and misanthropes," Adam said. "Dooley is on a different level though. Maybe it's that he's unvoiced and yet so smartly written that I can hear his every word, or maybe it's that he's secretly the world's laziest anarchist trapped inside the uniform of a policeman."
I kept meaning to play Darkside but... okay, now, for real. For Adam.
The full season of The Darkside Detective costs £9.99/€11.49/$12.99 on Steam, GOG, and the Humble Store. Humble note that their price, at least, will go up next Friday so perhaps don't dawdle.