The Elder Scrolls Online wades into Murkmire today with new DLC
Wading hip deep in lizard lore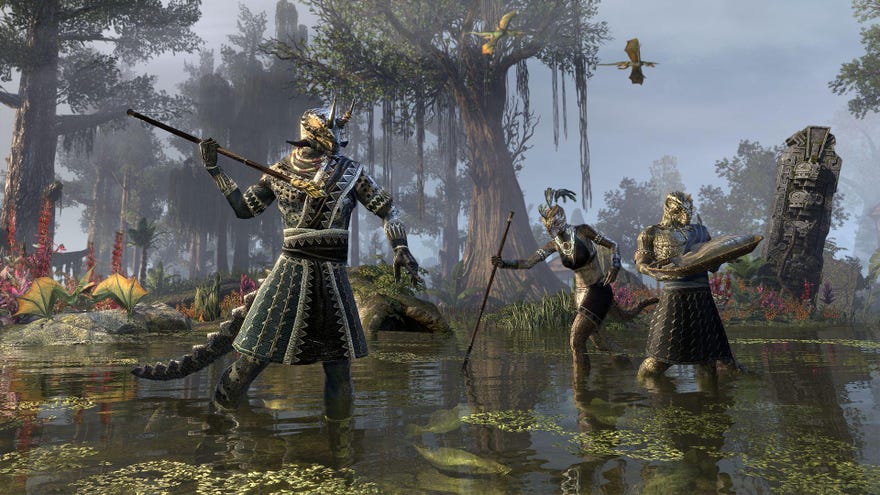 The Elder Scrolls Online has a lot going for it these days, but probably the most exciting part is exploring the weirder fringe regions of its world. Today's new DLC release, Murkmire, fits the bill, with dense marshlands full of flesh-eating plants, overgrown temples and lizard-folk living in and around the brackish waters. While perhaps not as strange as Morrowind's mushroom-laden volcanic realms, it's an enticing new location to explore. The DLC is out now. Check out the lengthy patch notes here, and launch trailer below.
The Murkmire DLC adds a new zone out on the southern tip of Tamriel, with new monsters, quests and (mostly reptilian) people to meet. It also includes a new dungeon of sorts. Blackrose Prison is an arena survival challenge, where four players fight waves of enemies. There are Normal and Veteran difficulty versions of Blackrose, with rewards to match. Probably the most tempting of the rewards are a set of unique Blackrose weapons with their own special attacks. There's also a series of quests on the mainland that lead into the new Murkmire adventures, so do those first.
Accompanying the DLC is a major update (all together, the patch - noted here - weighs in at 3.2gb). Among the bigger changes, Alliance PvP should be a little more strategic now, as certain bridges and milegates in Cyrodiil are destructible and repairable. Siege merchants now sell the items required to patch them up, and these structures are considered permanently neutral, making them free for even the defending side to damage, intentionally or otherwise. Being neutral structures, repairing them doesn't award Alliance Points - it's just for practicality's sake.
I'm hoping that I'll be able to make some time for this DLC over the coming week. The launch version of The Elder Scrolls Online left me cold - it felt like a generic MMORPG with some Elder Scrolls environments and characters tacked on. Several expansions and a massive rework later (including the introduction of dynamic level scaling) and I'm shocked at how much it feels like a proper Elder Scrolls game to me, and arguably the one with the best thieving. You can steal from any NPC or store you can find, but there's no quick-loading if the guards run you out of town.
The Murkmire DLC for The Elder Scrolls Online is out now. It can be bought for Crowns (the cash-shop currency), or as part of the optional ESO Plus subscription for the game, normally £9/$15 monthly. The Crown price for the DLC is 2000 crowns, or 4000 for a fancy premium edition. 1500 crowns normally costs £11/$15. It's a pointlessly messy system, but the subscription seems the way to go, as it includes most other minor DLC.
You can find The Elder Scrolls Online on its official page, Steam or Humble. The base game costs £15/€20/$20, and the Summerset expansion costs another £20/€30/$30.