The Great Unknown: EU IV - Conquest Of Paradise
Strange shores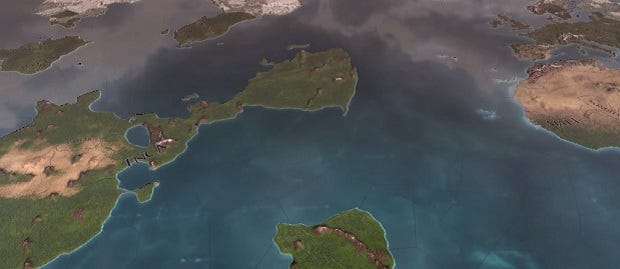 As several commenters pointed out, all of the screenshots that accompanied my Conquest of Paradise interview showed either Europe or usual Americas. The ones that you can see on any map. A few images of the randomly generated New Worlds had been released in developer diaries on the EU IV forums but I was expecting a video before release and, my spyglass confirms that we're about to make a grand discovery. Land ho! See footage of the random continents and archipelagos awaiting your colonists below.
Conquest of Paradise is out tomorrow. For more information, take a peek at our recent interview.
While I think this is an exciting direction for Paradox to take their DLC, abstracting a historical fact into such a significant game-changing mechanic, I'm not convinced I'll find a great deal of use for it. I tend to stick with my EU campaigns for a few months, sneaking in an hour or two whenever I can find time. That means I might see two new worlds in the next year.
The randomised Americas aren't the only addition to the game though. New colonial and Native American mechanics should add more depth for every player, no matter how ponderous their playthroughs.