The International 2017: Five Dota 2 teams remain - who are they and how are they doing?
The competition is ramping up!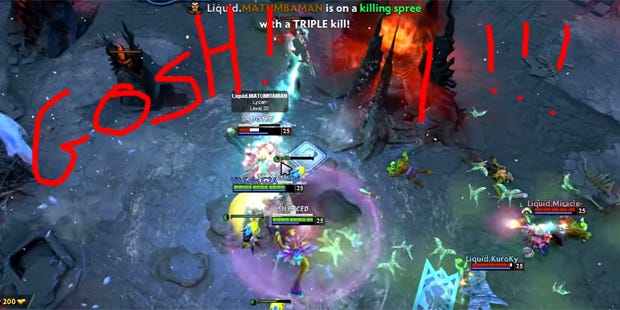 Four days into the main event and The International 2017 - Dota 2's $24 million world championship - is down to its final five teams. Only Newbee, LGD.Forever Young, Team Liquid, Invictus Gaming and LGD Gaming remain, the other eleven squads to grace the main stage of Seattle's KeyArena having fallen from the lower bracket and out of contention for the trophy.
That includes the prestige-laden likes of OG, who lost 0-2 to LGD in yesterday's round 3, and home team favourites Evil Geniuses, who posted their worst International finish since 2012 in a clean sweep by CIS underdogs Team Empire.
EG actually started off the tournament in reasonably strong fashion, securing an upper bracket spot. Still, they fell 0-2 against Newbee, one of the multiple Chinese teams that look genuinely championship-worthy (just look at Hu 'Kaka' Liangzhi saving his core, Damien 'kpii' Chok, to prevent an EG comeback).
While Empire appeared an easier team, standout performances by stand-in carry Roman 'Resolut1on' Fominok (surely now due to be one of the most in-demand free agents of the post-TI roster shuffle) shocked the TI5 champions, who failed to capitalise on early leads with oddly meek mid-game performances. Empire themselves looked like they could be this year's dark horse, like Digital Chaos and CDEC of Internationals past, but were decisively bested by Liquid in the following round.
Multiple Major-winning side OG put up more of a fight (including 2-0-ing out TNC, who famously eliminated them at TI6), and LGD only narrowly took the first game of their elimination series after nearly an hour of back-and-forth outplays. Game 2 was even better, from a spectacular Roshan brawl to OG's scrappy high ground defence to a breathless ultra kill by Lu 'Maybe' Yao's Storm Spirit. This last run of kills finally allowed LGD to finish off OG, who once again leave TI earlier than most expected.
Here's the Rosh brawl:
And the high ground defence:
Aaaaand the ultra kill:
LGD will face iG later today in another elimination match, with the winner going up against Liquid for a spot in the lower bracket finals. Liquid's own run has been plenty storied, starting with a surprise upper bracket loss to iG (could we see a rematch in the lower bracket?) before a close 2-1 victory over Team Secret.
Clement 'Puppey' Ivanov and company proved dominant in game 1, but an aggressive Liquid successfully bought midlaner Amer 'Miracle-' Al-Barkawi enough space in game 2 for his Alchemist to farm his way out of control, evening the score. Finally, despite excellent usage of Rubick's Spell Steal ultimate by Secret's Yazied 'Yapz0r' Jaradat, Miracle-'s Troll Warlord (back up by immense healing from Maroun 'GH' Merhej's Keeper of the Light) again came out on top.
Liquid also had the dubious honour of playing the longest-ever game on a TI main stage, a 103-minute ground war against Virtus.pro. It's worth watching the full match highlights – these are still two top-notch teams on the brink of elimination – but here's the utterly bonkers ending to that marathon game 1. Because, seriously, gosh.
Speaking of VP, special mention goes to their upper bracket round 2 match against LFY, perhaps the closest remaining team to a 'surprise' title contender.
It was a pacey couple of games, with VP looking to equalise a 0-1 game deficit in game 2 before an amazing high ground defence by LFY (and subsequent minute-long chase of Vladimir 'No[o]ne' Minenko's Viper) turned the tide. Tue 'ah fu' Soon Chuan's masterful Aegis snatch, arguably tied with Kaka's rescue of kpii as the best individual play of TI7 so far, was the final straw that sent VP into the lower bracket and a doomed date with Liquid.
A mere four matches are left to play, including tomorrow evening's (UK time) best-of-five grand final. First up today will be iG vs LGD at 6pm (again, that's UK time) – iG have had the better main stage results so far, perhaps giving them the edge in confidence, but LGD have shown that they're not afraid to play fast and get up in their opponents' faces, which could trump iG's more conservative style. The winner will go on to play Liquid, the last non-Chinese squad left in the whole tournament, at about midnight.
Between these matches, we'll also have the upper bracket finals between Newbee and LFY. Again, this is just too close to call – Newbee have been the much more consistent team throughout 2017, but LFY's record at TI7 is frankly impeccable: 14-2 in the group stage and 4-0 at the main event. Their carry, Du 'Monet' Peng, is also easily one of the breakout stars at this event. The winner of that match gets a spot in the grand finals, a shot at over $10.6m in prize monies and, of course, a chance at lifting the Aegis of Champions, so be sure in via Twitch, YouTube or the in-game client.