Have You Played... The Last Door?
knock knock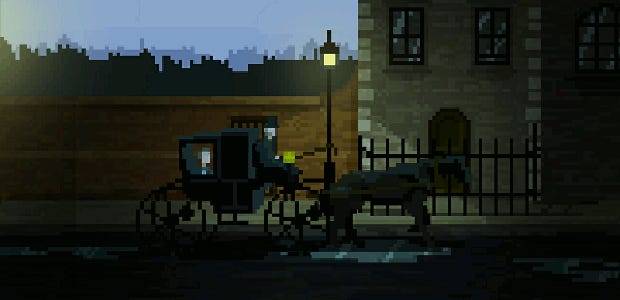 Have You Played? is an endless stream of game retrospectives. One a day, every day of the year, perhaps for all time.
The Last Door [official site] is an episodic point and click adventure horror game series. I enjoyed the first season, in spite of the fact that I got stuck on a couple of obscure puzzles, and I'm going to make time for the now-finished season two at some point in the near future. Creepy, creaky (the sound design is fantastic) and sedate, it's an effective game and the lo-fi graphics serve the sense of mystery well.
If you haven't played The Last Door, there's some good news: you can play the first episode for free right now. It's a good introduction, kicking off the wider plot with a self-contained story. The series as a whole uses the episodic format to move from one place to another, generally introducing one major location and/or a handful of minor ones in each episode. Once you're done, the characters move on to someplace new.
Plotwise, there's something of Poe and something of Lovecraft, and even a dash of Penny Dreadful, although everything here is quiet and subdued. Rats in the walls rather than leaping from the shadows and chewing your face off.