The More Or Less Complete IGF Factor 2012
18 developers, 7 questions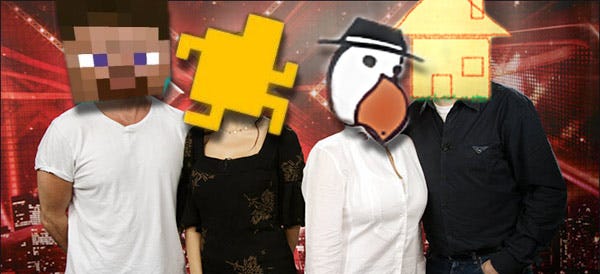 They said it would never end. And then, on Saturday, it did. We've been posting our series of chats with the many splendid finalists in this year's Independent Games Festival over the last couple of months, and, with the exception of English Country Tune (dev was worried about sounding boring), Mirage (dev didn't reply) and Fez (dev wouldn't confirm the possibility of a PC version) we managed to get mini-interviews with all the PC/Mac indie developers in the running for a gong.
In case you missed a few, didn't understand what the hell it was all about or just like looking at neatly-ordered lists, here's the complete series for your relaxed perusal. It's a fascinating and diverse bunch of games in the finals this year, and if nothing else, it's a rare chance to see what 18 different developers would say to the monsters in Doom if only they could talk to them.
Here are all the interviews, arranged in the categories the respective games are nominated for. That means games with multiple nominations appear multiple times below. So don't moan about it, because boring.
Seamus McNally Grand Prize
Dear Esther
Frozen Synapse
Johann Sebastian Joust
Spelunky
Fez
Excellence In Visual Art
Botanicula
Wonderputt
Lume
Dear Esther
Mirage
Technical Excellence
Antichamber
Prom Week
Realm of the Mad God
Spelunky
Fez
Excellence In Design
Atom Zombie Smasher
Frozen Synapse
Gunpoint
Spelunky
Fez
English Country Tune
Excellence in Audio
To The Moon
Botanicula
Dear Esther
Pugs Luv Beats (iOS)
Waking Mars (iOS)
Nuovo Award
At A Distance
GIRP
Proteus
Storyteller
WAY
Dear Esther
Johann Sebastian Joust
Fingle (iOS)
Huge thanks for your time to all the various devs who kindly agreed to do this, and best of luck to absolutely everyone in the finals. YOU ARE ALL WINNERS. But we'll find out the official winners during GDC early next month.