The RPS Game Club pick for April is Betrayal At Club Low
Grab a hot slice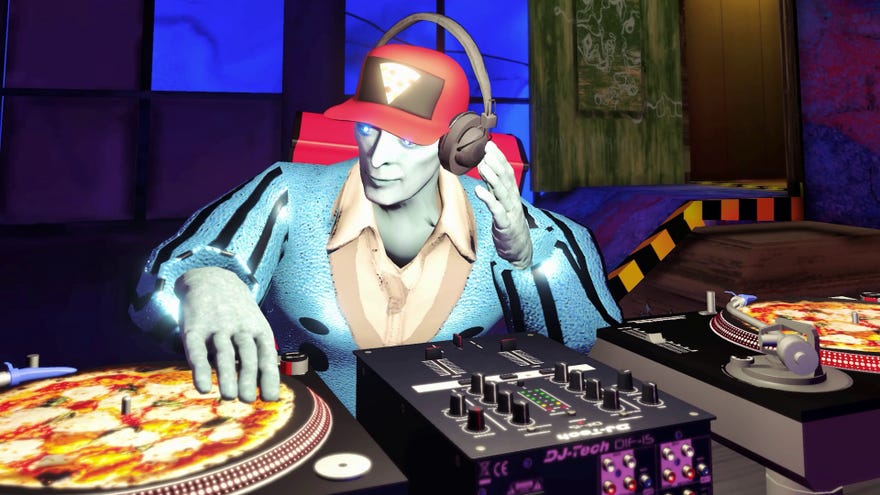 A new month means it's time for the RPS Game Club to pick its next game, and I thought, you know what, let's do Betrayal At Club Low, the surreal nightclub RPG from Cosmo D Studios. Not only did we give it a Bestest Best when it came out in September last year, but just last month it was freshly annointed as the IGF Grand Prize winner, making it an excellent time to revisit this latest slice of Off-Peak City madness.
In Betrayal At Club Low, you play an undercover agent disguised as a pizza delivery man who's been tasked with infiltrating a night club. Your handler believes fellow undercover pal Gemini Jay has been compromised, and you've only got a handful of hours to extract them from their sticky situation. You'll need to use all the tricks in your dice-roll toolbox to get inside, and get out, before you're both well and truly rumbled.
But this is Off-Peak City we're talking about here - a place where skyscrapers jive in the background, houses smile with crooked grins, and pizza and dancing reign supreme. The normal rules of logic and persuasion count for very little in this strange place, which is why your skill check dice are all themed around things such as 'cooking', 'music', 'deception' and 'wit'. You'll need to roll and upgrade these dice for almost every encounter you have in Club Low, using money you earn from making and delivering pizza pies to do it. It's a wonderful and strange game to sink your teeth into, and most importantly, it only takes a handful of hours to play and digest fully, which is why we've picked it for this month's Game Club.
It also doesn't cost an arm and a leg, either, as you can grab it on Steam and Itch for £7 / €8 / $10, and it's compatible with Windows, Mac and Linux systems. There's also a free demo you can try on Steam to see if you dig it beforehand, too.
If you've already played Betrayal At Club Low or don't quite have the funds to buy it outright, fear not. As we mentioned in our first Game Club post, the main aim here is to provide and fun and inclusive space to talk about cool games and the things we like about them. That's it.
On our side, that means we'll be writing a handful of extra articles about Betrayal At Club Low throughout the month (and Cosmo D's larger Off-Peak universe), and at the end of April we'll all pile into a liveblog post on the site where you can chat to us in real-time about your favourite parts of the game, ask us questions and more. We had a great time chatting about Hi-Fi Rush last week (thank you again to everyone who came along for it!), and I hope to see a similar number of you at the end of April for Club Low.
So go forth and boogie on the tiles of this strange, pizza-fuelled dancefloor, folks, and we'll see you very soon for our big liveblog chat. Enjoy!