The Spend Times: Steam's Holiday Sale Is Live
What Christmas is really about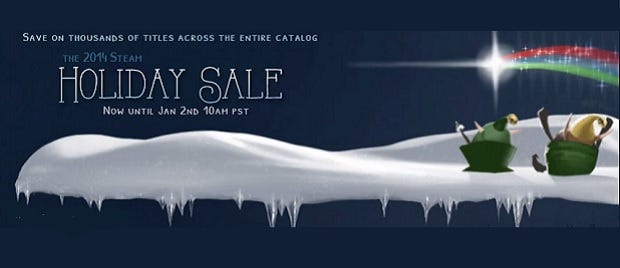 It's Chriiiiiiistmas, as Noddy Holder screams every morning to the terrified residents of Toyland, no matter what the season. Beneath a mechanical tophat festooned with mirrors and baubles, he gambols and grimaces, throwing colourfully decorated parcels containing tiny tartan trousers and other glam trinkets.
Steam is a lot like young Noddy, spreading goodwill whatever the season with its regular sales. But now is your chance to grab gifts for one and all (yourself included), because the Holiday Sale has just begun. Highlights below.
First up, there are special 'Holiday 2014' trading cards, which is a relief. I'm not relieved about the existence of new cards, available for a limited time, but I am relieved that there's no immediate evidence of a complex shop-based metagame. No potato sacks here. You can find out more about the Holiday cards here.
Now, to the games.
There are new flash sales every 12 hours and community choice voting is open now, but there are some big names in the initial line up is well.
The Total War Master Collection is worth a look, containing almost every thing related to Creative Assembly's strategy series. The inclusion of Total War: Rome II's much-improved Emperor edition means you're getting almost the entire fifteen year history of the franchise for £24.99. Rome II's Emperor edition is available on its own for £7.49 - I haven't revisited it for enough time to give a definite recommendation but did play for a few hours at the weekend. It's not quite a different game to the original release but it is a much better version of that sprawling, troubled epic.
How about Dark Souls II for £11.09? Not to be sniffed at. DLC isn't on sale, which is a shame since the whole bundle of add-ons is now pricier than the game and I'd quite fancied picking them all up, having only played the first. We quite liked Dark Souls II.
If you have a burning desire to add Beyond Earth to your collection, it's as cheap as it's been since release a couple of months ago. £17.99 for that. Here's our review and verdict.
But here's what you really want - Euro Truck Simulator 2 for £2.24. If you've ever wondered why I bang on about it all the time and have considered buying it to find out, now's the time. It's £2.99 with the Going East expansion, which adds chunks of Eastern Europe.
Flight Simulator has landed on Steam for the first time in the form of Microsoft Flight Simulator X: Steam Edition. It arrived today and went straight into an 80% discount - it'll cost you £3.99. Almost everything I know about it is contained in this post.
Another new release with a discount in the shape of Metal Gear Solid V: Ground Zeroes, which is £11.38, discounted by 33%. Rich Stanton wrote fine words about it earlier today.
Our horror game of the year, Alien: Isolation, has a 25% discount, but as with anything that's not in a flash deal, it could be worth waiting til later in the sale, which runs until January 2nd.
Oh, and those Amplitude sales on the Endless games from earlier today are continuing as well. Hurrah!