Click me up: Thimbleweed Park coming March 30th
Date-o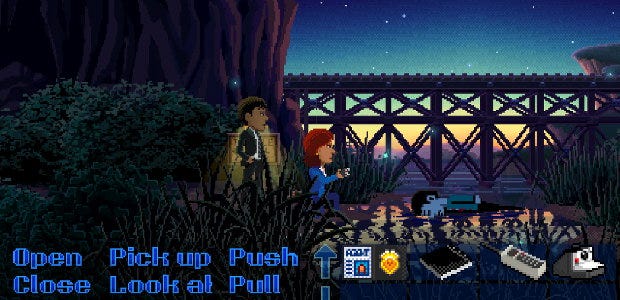 Thimbleweed Park [official site], the new adventure game from Maniac Mansion creators Ron Gilbert and Gary Winnick, finally has a release date. On March 30th, two-and-a-quarter years after the game's crowdfunding campaign ended, we'll be welcomed into the small town of Thimbleweed Park to investigate murder and other strange goings-on. It'll bring puzzles, chat, jokes, japes - y'know, stuff you'd broadly expect from the reunion of a pair of LucasArts adventure veterans.
If you've not paid much attention, hey, here's the pitch:
"Lost along a dusty stretch of highway, this proud town once boasted an opulent hotel, a vibrant business district, and the state's largest pillow factory, but now stinks of a desperate longing to be what it once was.

"A body has been found in the river, bloated and pixelated from the decay of a death come too soon. Agents Ray and Reyes arrive and are immediately suspicious of each other's intentions, then a couple of pigeons show up and start talking about the signals and it only gets weirder from there.

"A cursed clown, a disinherited game designer, and the ghost of pillow salesmen join the story and add their own complications."
For starters, you can learn an awful lot about Constitutional amendments:
We had a good chat with Ron Gilbert last year and, more recently, Pip has been playing a preview build. She took issue with what it considered a casual mode, thinking its idea of streamlining is quite different to what she would want. It's a good read, that.
Thimbleweed Park is coming to Windows, Mac, and Linux via Steam and GOG on March 30th.