Things Of Mass Effect 2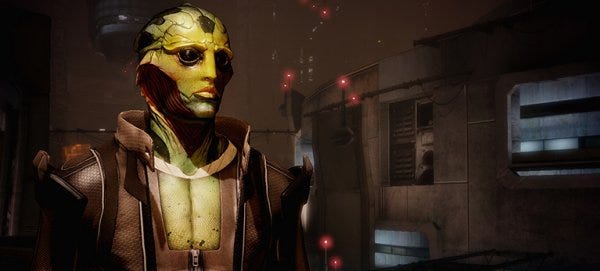 First there was Mass Effect, and soon there will be two of it. And yet, to be quite honest, I've not really be tracking said sequel, despite quite enjoying the first part of Bioware's big space adventure. With 2 being bumped back to continue in early in 2010 (no concrete date yet), I've lost ever more focus on it. However, I just spotted this dude shown (above) - who was apparently revealed a bit earlier in the year - and interest has once again glimmered. He's a beautifully blank-faced alien assassin character, Thane, and I can see him being rather popular in my ME2 team, made up from "the galaxy's most powerful mystics, geniuses, and convicts", as we make adventures and deign to save the human race. Of course what has nudged me into looking into all this is some information from GamesCom, where those extraneous plot details and a grunt, called, er Grunt, have been revealed.
Oh, and there's a trailer illustrating Mr Grunt too, straight from the convention and posted below. Game footage, a-lovely. But why does every possible future have an '80s pole-dancing club?


Oh and a dev diary from a while back, since we're catching up on all things Mass Effect 2: