Timey Wimey: Lots Of Footage Of The Half-Life Alpha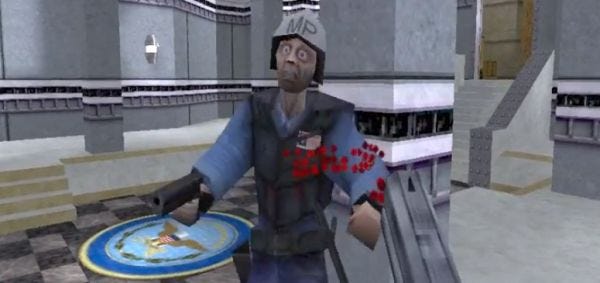 Way back in time, when the world was in 8-bit and we all paid for our cholera gruel with children's teeth, Valve were working on Half-Life. It wasn't very good, and Valve took the decision to rewrite most of the game. Somewhere in the multiverse there's a universe where that version of Half-Life was released. The first difference between universes is that the 1997 alpha wasn't improved. Valve and Steam are no more, and SiN is the game we all remember fondly. Games For Windows Live is the main digital distribution channel. We clearly have the better universe, but if you want a glimpse into the world that could have been, then I have videos of the original Half-Life alpha for you.

This was made possible by the hive-mind of Reddit. A CD image of the game has been posted there and the people got to work getting it to work. The result is it works! Work it! It's the Half-Life Alpha v 0.52 from September 4, 1997, about a year before the game was released. It includes the tech demo, walkthroughs, and a multiplayer map. You want to see it, don't you?
The first video is a walkthrough of the tech. Some of it is genuinely impressive for the time: the coloured lighting, the flocking mechanics, the glass effects. Some of it is laughable, with possibly the most bug-eyed NPC to ever appear in a game, and a demonstration of a high-poly model that looks a bit like a robot that's going to wet himself. There's dreadful animation and broken bits aplenty.
This is the developer walkthrough, recorded as as demo file. It might be Gabe! It has the ugliest UI you've ever seen, and everything just feels slightly off. A slower, less panicky version of the game that was released. The gun is particularly weedy, and the human enemies really sound like Mr T. It's not dramatically different, but shows you the value of tightening everything up.
The final video shows an early iteration of the classic multiplayer map, Stalkyard.
Uh-oh. I accidentally spilled some blood on my keyboard, while reciting words from some eldritch parchment. The universes are merging! Oh no, what have I donnnneeee... ?