Tinker, Trailer, Master Spy: Play This Platformer Demo
Spy Hard 2: Spy Harder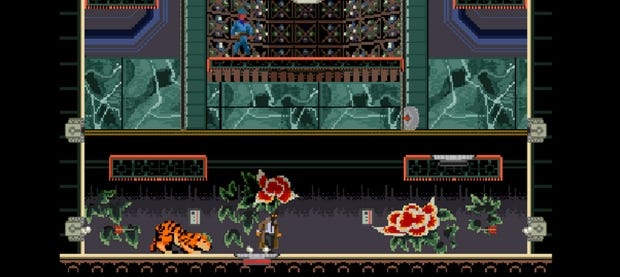 You can keep your self-driving cars, Amazon delivery drones and cryptographic currencies. The future I'm excited about is the one in which I get to play Master Spy. The 2D evasion platformer is about sneaking past guards, cameras and dogs using a an invisibility cloak to a soundtrack of '80s synth. It has unaccountable floating platforms, unaccountably beautiful pixel art, and it understands the power of the GIF.
It's up on Steam Greenlight now, and there's a teaser trailer below that sells its wiley charms.


So it's like Gunpoint without the crosslink crossed with Snatcher crossed with, I don't know, a platform game about jumping. There's a video and GIFs on this very page. Work it out.
I first encountered Master Spy a few months ago via the #screenshotsaturday hashtag on Twitter, and I made a note of it in part because it was using animated GIFs instead of static screenshots. They instantly capture the appeal of the game. Kris Truitt posted another at the weekend, from a mission that is maybe called "Feldstrom Electro's Mansion in the Rhine".
The only disadvantage to these depicted moments of platforming prowess is that they make the game look difficult. It is, but fret not. I've played the early free demo, and you'll find yourself using the instant restarts to quickly create your own swift runs through each level's geometry of detection.
There's now a new demo playable in your browser to entice you to vote for it on the Master Spy Steam Greenlight page.